Great British Wood and Supporting Local Woodland
Did you know most timber in the UK is imported? In fact, our tiny island is the second biggest importer of wood in the world, behind China. The question is: why? We have wonderful British wood right here at home, including British Larch, English oak and more. 
The key is knowing which homegrown wood will suit your specific projects. In this blog, you'll discover which British woods are best for flooring, cladding, furniture and beams. Plus, we'll share the benefits of choosing local wood rather than imported alternatives.
The beauty of British wood
The UK imports 80% of the wood it uses – £7.5 billion annually. This means timber travels thousands of miles, and very little money goes back into managing our local woodland. At Vastern, we think there's a better way.
We have beautiful wood growing right here on our doorstep – and it has so many benefits. British grown wood not only looks beautiful, you also create a positive ripple effect when you buy it. Using local timber reduces transport mileage, lowers the carbon impact of construction and supports ongoing investment in local woodlands. 
That's why we specialise in British wood, including the likes of British Larch, English oak and more.

Vastern: The home of British grown wood
If you don't know much about us, here's a quick introduction. 
We're an award-winning, family-owned timber firm dating back to 1904. We specialise in British grown wood and are driven by the desire to make British woodland bigger and better, for the benefit of all.
As part of this mission, we donate 1% of our turnover to support projects that help woodland thrive – we call this our Woodland Tax. 
Using British grown logs cut in our own sawmills, we produce timber cladding, beams and flooring as well as fresh sawn, kiln dried, and thermally-modified machined timbers. You'll also find processed oak, ash, larch and cedar, plus a wide range of locally grown wood for a variety of applications.
English Oak, British larch or cedar? Let's find the right wood for your project
We offer several species of wood, all with their own properties and applications.
English oak is perfect for strong beams, elegant flooring, and stunning heirloom furniture. Alongside this, we offer green oak beams, semi-seasoned and kiln dried oak, fresh sawn planks of pippy oak and plenty of machined profiles for cladding, floors and joinery. 
If you're looking for external timber cladding, British grown larch and cedar would be a good fit. These woods are naturally durable, look great and provide a viable alternative to imported woods.
Right now, we're offering homegrown British larch as an alternative to Siberian larch, which has been subject to trade bans since the invasion of Ukraine. At the same time, our British grown western red cedar is a popular alternative to Canadian Cedar – a wood which is becoming increasingly expensive and controversial. 
Award-winning British timber cladding
Alongside British larch and cedar cladding, we offer another option for you. Over several years, our team has developed an innovative process that transforms British grown woods into award winning timber cladding.
Using English ash, poplar and sycamore, sourced within 100 miles of our sawmills, we apply thermal modification to produce a durable, stable timber for exterior cladding projects. We call this cladding Brimstone.
We're proud to say that Brimstone has proved incredibly popular and effective. In fact, it recently won Build It Magazine's Best Cladding prize and the 'People's Choice' award at the Alliance of Sustainable Building Product Awards.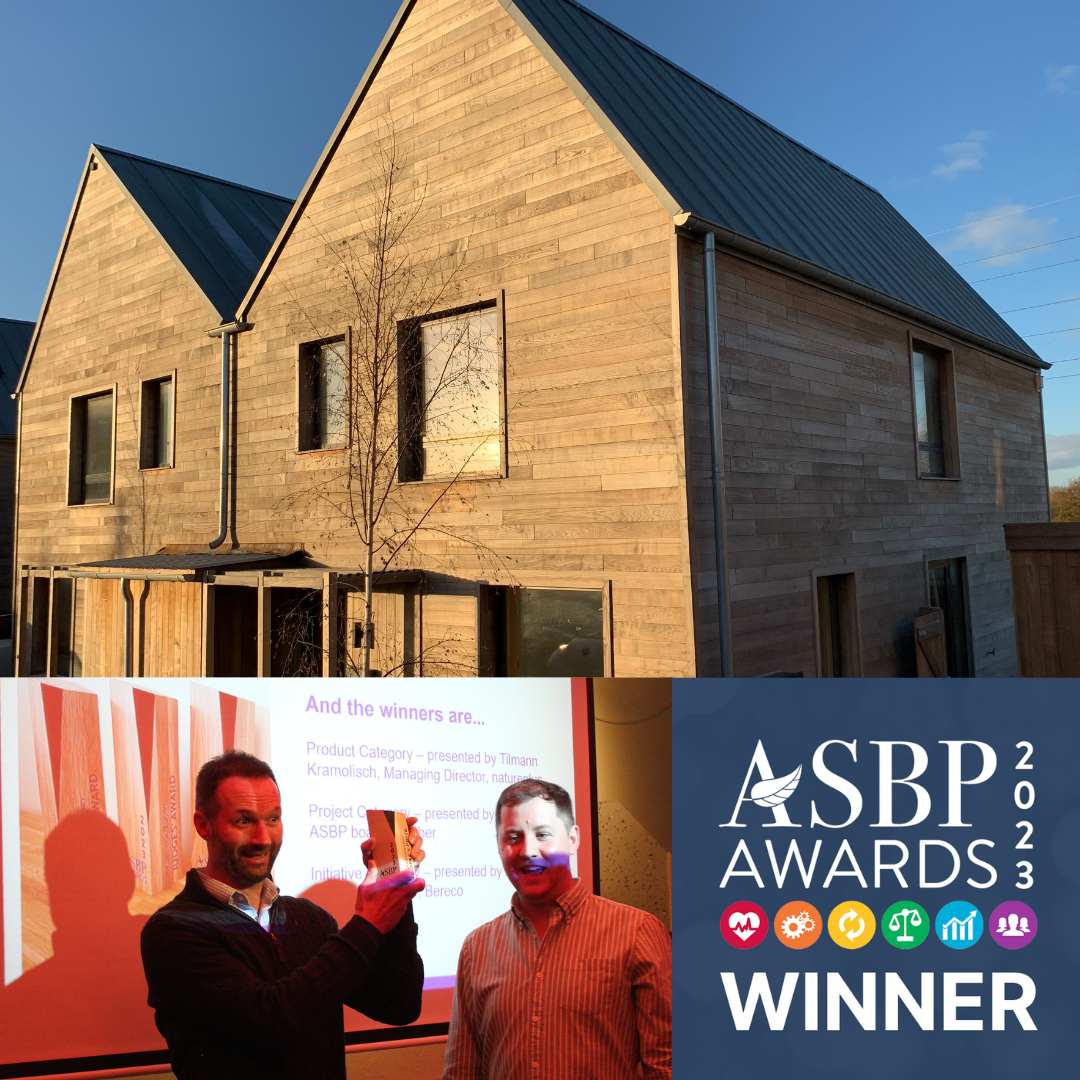 British-grown solid wood floors
If you're looking for solid wood flooring, we can help there too. We offer homegrown ash, elm and sycamore as well as English oak flooring. 
All of these species are beautiful choices for hardwood floors. And while the robustness of oak is great for hallways, silky sycamore is a lovely choice for a bedroom. 
A real wood floor is an investment that can last more than a lifetime. So, it's important to choose the right wood for your project. Our team is here to help you do exactly that.
As specialists in British grown timber, our experts will listen to your requirements, and show you what options are available. That way you can make the right choice for you.