December 22, 2022
Seven success stories from our 1% Woodland Tax funding in 2022.
In 2022, we decided to donate at least 1% of our turnover to support people and projects that are helping our local woodlands. We called it the 1% Woodland Tax.
Over the course of the year, we've had the pleasure of supporting a whole collection of projects. All very different, but all with the same aim: to improve local woodlands and our connection with them.
From a forest school for teenagers to tree breeding projects and AI tools for woodland management – the projects have been very inspiring. We've loved joining forces with such creative, energetic people and playing a small part in helping these projects develop.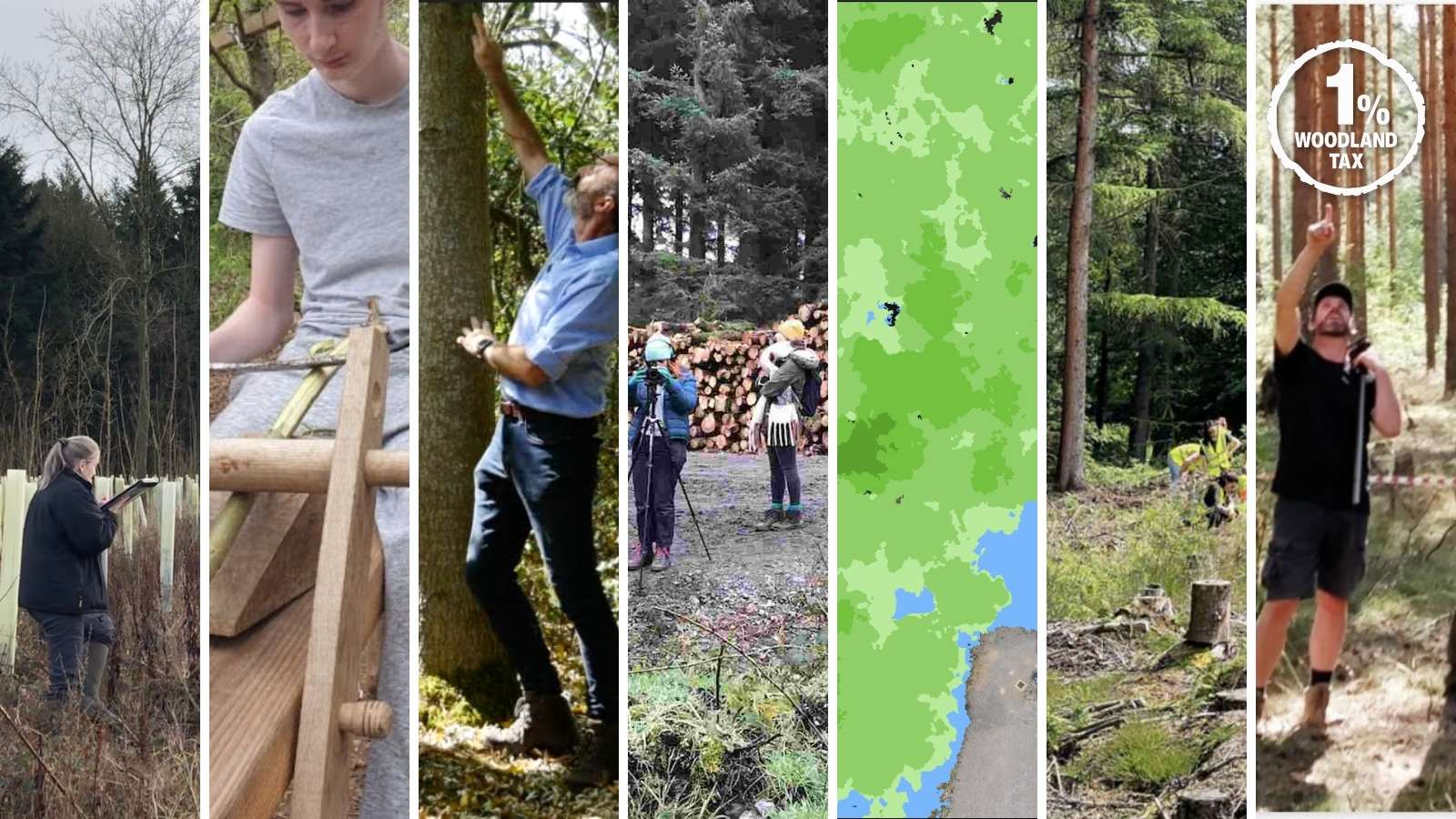 There are lots of success stories we could share from 2022, but here are seven highlights for you.
Sycamore studies at Future Trees Trust
During National Tree week, the Future Trees Trust team planted thousands of selected sycamore saplings to study the properties of these young trees. They're now setting up trial sites around the UK that can become seed sources to help future forests thrive. They told us: "The long term support from Vastern has been invaluable in making it happen".
Find out more about Sycamore Studies at Future Trees Trust. 
'Project Grow' Forest School for teenagers
"Project Grow" was set up by Shared Earth Learning Forest School for young people not in work or education. We were delighted to help get the project up and running. Following the early pledge of support from Vastern Timber, Shared Earth secured further funding from local partners and the national lottery.
Director Alex Hart told us: "We used the funds to set up a new outdoor education area for young people who are facing many challenges. It has also helped us to support our team, with a training and welfare fund to sustain our vital work."
Find out more about the Project Grow Forest School for teenagers.
Paradise Wood Mapping Project
Paradise wood is "an absolutely unique and special place in Britain, there's nowhere else like it in the country," says Gabriel Hemery, who helped create this young woodland in the 1990s. The site is now a place for understanding and demonstrating forestry. And the Woodland Tax funding is being used to map and 'read' the woodland here. As Gabriel explains: "we can understand what's growing, where, and why, in a very silvicultural sense."
Find out more about the Paradise Wood mapping project. 
Community Forestry film from Evolving Forests
Evolving Forests works with people that want to use more timber in a more considered way. People who are keen to grow trees for the benefit of the ecosystem, society, and beyond. As the team explained: "We're on a mission to drag our sectors and collaborators on a journey to beautifully presented ideas. We're asking questions about the future of community engagement in our woodlands. We filmed in Nepal, Scotland, Germany, England, London, looking at how community owned forests impact the communities that rely on them". The new film from Evolving Forests debuts in spring 2023. Watch this space.
Find out more about the Community Forest film from Evolving Forests. 
Techscope: understanding the potential of AI for woodland management
As AI technology develops, there's huge potential to increase our understanding of living organisms and habitat systems. Dougal Driver of Grown in Britain said "it is not beyond reason that such technology could rapidly increase and improve our understanding of trees and the ecosystems within which they live. The power of AI technology combined with improved scanning technology could exponentially change our ability to monitor, measure and predict landscapes conditions, providing vastly improved data".
Find out more about the Techscope AI Project.
Timber for 'Material Cultures' learning centre
This new learning pavilion in Dalby Forest will be a brilliant teaching tool, education space and construction demonstrator project. The new structure is going to be used for meeting, teaching and learning about British woodlands, and the ecologies and biodiversity supported by Dalby Forest. As the team explains: "This is the culmination of Material Cultures' work on decarbonizing the construction economy in the North East, and our ongoing research project Constructive Land. The research explores the future of forestry and farming and their relationship to the construction industry. We've partnered with Central St Martins (University of the Arts London) and Forestry England for the project".
Find out more about the Material Cultures Learning Centre.
Marteloscope: Tree Marker Training
The last project to get funding from the 1% Woodland Tax in 2022 is a project from Ted Wilson, for the creation of a Marteloscope.  "The Integrate Darnaway project recognises the value of a training area to enthuse and spark an interest in silviculture and forestry management starting from school aged students to those in their early forestry careers and beyond.

Marteloscopes are a great places to test out ideas and discuss forest management and silviculture. They are a fantastic tool for "learning by doing". They can be a venue to really hone the skills of practising foresters and places to introduce silvicultural concepts to non-foresters.
The marteloscopes at Darnaway will be the first of their kind in the UK and will form part of a Europe-wide Integrate Network of Marteloscopes. Financial support from Vastern Timber through their 1% Woodland Tax Fund is greatly appreciated and has made it possible for us to initiate this pioneering skills and education project."
silviculture.org.uk/marteloscope/g.uk/
It's fantastic to see how the 1% fund has helped support projects of all kinds this year. If you have a project that might benefit from our 1% Woodland Tax in 2023, take a look at how you can apply for funding.