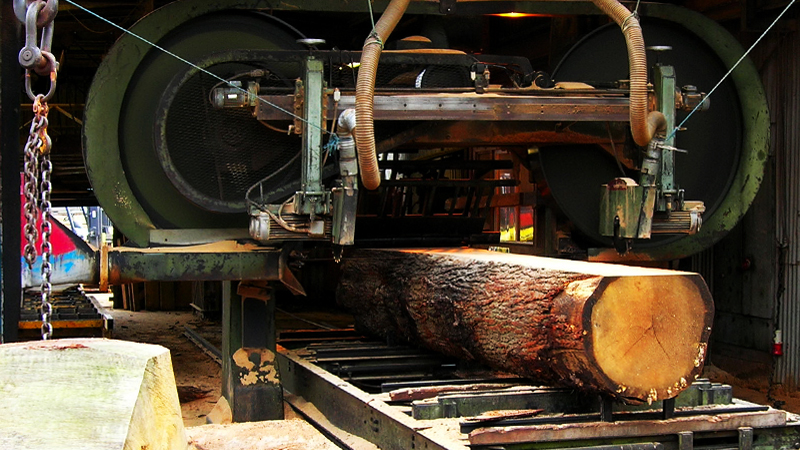 Planking a prime English oak log
At Vastern Timber we specialise in the production of British and European sawn hardwood and specialty softwood boards for the joinery and furniture markets. As well as having the country's largest stocks of sawn English oak, we also offer a wide range of other English timber species including ash, sweet chestnut, sycamore, elm, cherry and walnut.
We firmly believe that English grown hardwoods are some of the most beautiful grown any where in the world and they offer choice that has largely been lost from the standardised grades imported from mainland Europe and North America. Additionally, buying locally grown logs from well-managed English forests reduces road miles, emissions and the ultimate carbon footprint of the finished product.
Cutting logs in our own sawmills also allows us to produce grades and specifications that are not widely available from other suppliers. We stock English oak in a range grades including prime oak, character oak, pippy oak and tiger brown oak, and in wider widths and loner lengths than standard.
English oak, sweet chestnut, ash and elm are all available as either kiln-dried or air-dried boards which are ideal for external joinery or furniture and our air-dried oak, which is dried according to the traditional 1" per year rule, is available in boards from 27mm to 150mm thick.
Our British hardwoods and specialty softwoods are generally sold as waney edge boards (with the bark still attached) in lengths ranging from 1.8 metres to 4.5 metres and random widths between 150mm and 350mm. Wider or longer dimensions and sawn-to-size specifications are available but may take a little longer to produce.
However, having the wood is only part of the story. We think that what really sets us apart is our level of expertise and our ability to advise on the correct specie and specification for the job. Our timber graders will carefully select wood for each job board by board to ensure that the quality and the quantity match your requirements.
To avoid disappointment please make an appointment before arriving at either yard to select sawn timber.