English Brown Oak Sawn Timber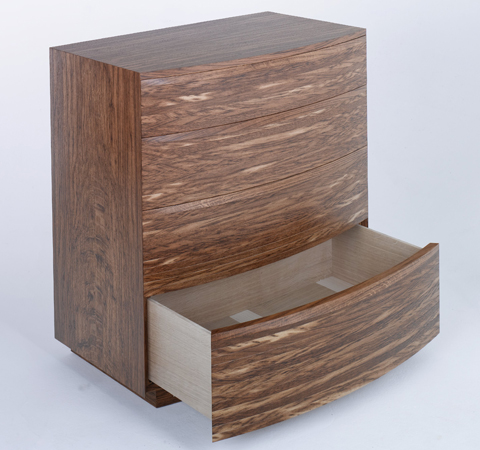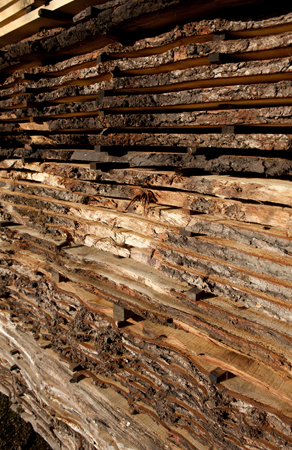 English brown oak fine furniture by Matthew Burt Ltd ©Ikon Studios
Waney edge English brown oak drying
English brown oak takes its colour from a fungus, Fistulina hepatica, which attacks the roots of the trees, causing the wood to assume a chocolate brown hue which often appears as streaks rising up from the base of the tree and tapering out further up the trunk.
The true brown oak is unique to British forests, while in continental Europe the effect of the fungus is similar but the oak turns pink rather than brown.
The decaying effects of the fungus do not persist after the wood has been dried so brown oak can be treated in much the same way as any normal coloured oak.
Appearance
Waney edge boards of English oak will be supplied with wane (bark) on one or two edges.
English brown oak is similar in every way to normal English oak except for its colour. The grades range from First Joinery to Character although there is rarely enough volume to sell the grades separately.
At least half of each board will be either solid chocolate brown or streaky, with the remainder being the normal oak colour. Boards which are solid brown from end to end are very rare and consequently in great demand.
The centre (quarter sawn) boards will include the heart which often takes the form of a crack running down the centre of the board. The silver medullary rays displayed on the quarter sawn boards provide a stunning contrast to the brown colour.
The bottom end of a brown plank will often be decayed past the point of usefulness. This section will either be removed or, if there is some useful wood present, a suitable reduction in measure will be applied.
English brown oak is prone to surface splits, especially near the centre of the log. Excessive splitting will be measured out.
To avoid disappointment please make an appointment before arriving at either yard to select sawn timber.
Technical Specification
Common name
English brown oak
Family
Fagaceae
Genus
Quercus
Unit of sale
M3 (Cubic meters) (1M3 = 35.315 Ft3)
Kiln dried weight
Approx 720 KG / M3
Specification
Supplied in waney edge sawn boards
Width range: 200mm – 350mm +
Dimensions

Description
Board
thickness (mm)
Board
thickness (

"

)
Kiln dried boards
27 / 34 / 41 / 54
1 / 1¼ / 1½ / 2

Moisture content

Description
Board
thickness (mm)
Moisture
content
Kiln dried Boards
27 – 54
10 – 14%

Durability
BS EN350-2. Unclassified.
Workability

+

Generally works well. Liming & fuming possible


–

   Contains tannin. Can be brittle
Grades available
English brown oak is available in the following grades but please note that not all thicknesses are available in all the grades:
Mixed grade
Due to the limited volume of English brown oak available, we do not offer separate grades.  We do, however, welcome customers to come and select boards from our stocks.