November 2022 from the Sawmill
We're excited. Oak plank sawing season has begun – and this year we have some beauties. Take a look at our 'AA' logs from Longleat, West Dean and Yattendon estates.
What else do we have in store for you? There's news from the Forestry Conference. Here, Tom spoke passionately about the pressing need for a National Timber Strategy. Find out why.
You can also see how our oak is being used at the Tower of London. Read about sycamore success stories from our friends at Future Trees Trust. And get the lowdown from a well-attended webinar with ArchitectsCAN!
Let's go!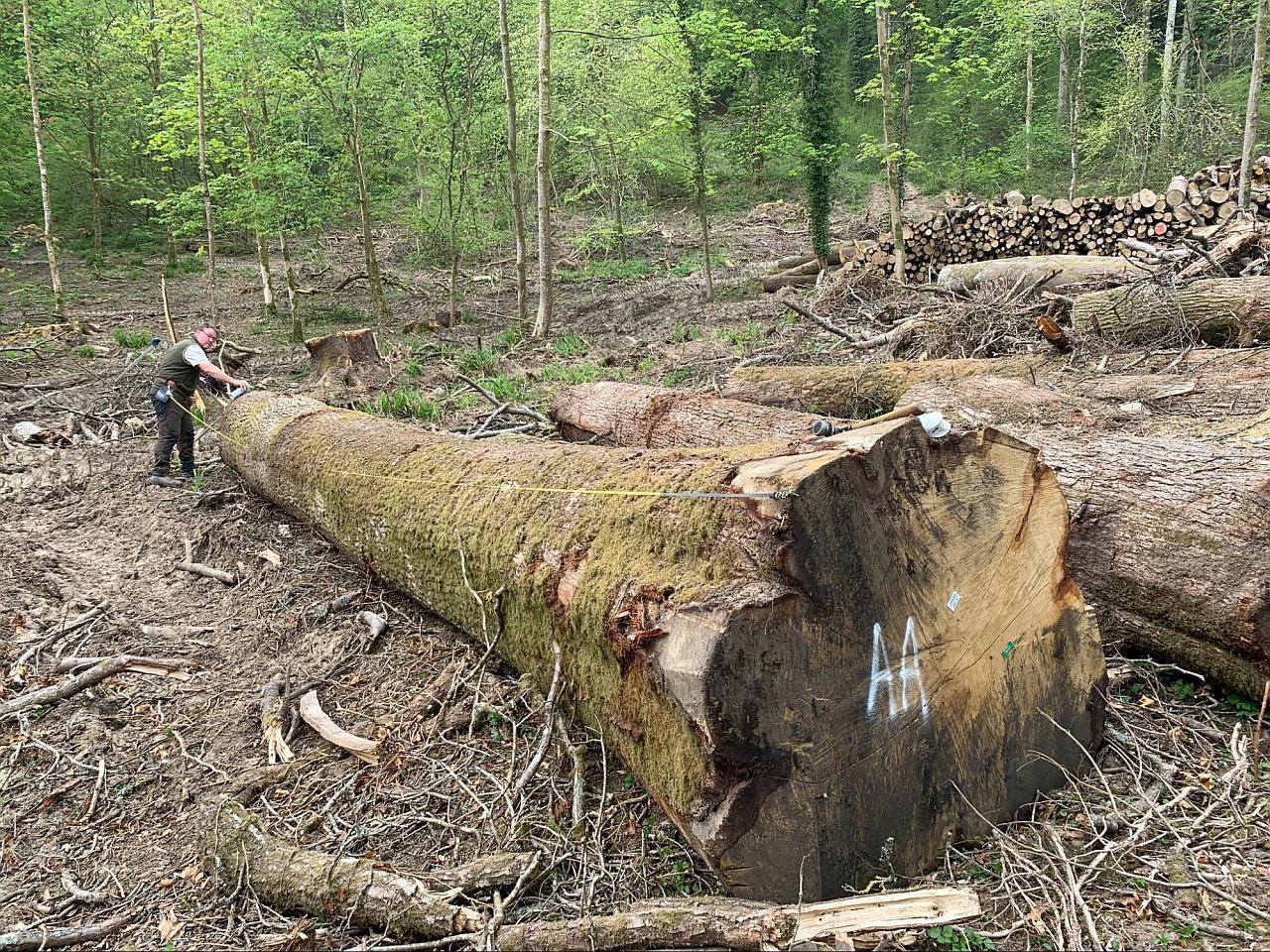 AA Oak this cutting season
The weather has cooled. There's moisture in the air. This can only mean one thing: it's time for sawing oak planks.
This year's highlights include outstanding 'AA' logs from West Dean, Longleat, and Yattendon estates. You can read more about these logs, their special features and how we'll be drying them in our new blog.
English Oak at the Tower of London
Over the years, we've supplied English oak to the Tower of London for a range of projects. Whenever we head to the capital, it's always great to see how it's being used.
Talented artisans have created a sturdy drawbridge, a magnificent staircase, and a wonderful variety of furniture and joinery from our oak.
Take a look at these brilliant projects in our updated case study, including photos of the oak furniture and fixtures from our latest visit.
Architects CAN specify local timber
It seems odd that local timber was described as a 'novel' material at a recent Architects Climate Action Network event. But here's the thing: it's not standard practice to use local wood.
Of course, we're on a mission to change that. So, this week, Tom spoke at the ACAN masterclass, 'Growing, Specifying and Using Local Timber'. Here, he talked through the many advantages of using local wood in today's building projects.

Explaining the need for a National Timber Strategy
Tom's passion for trees is always clear, and his talk at the recent Forestry Conference was no exception. He spoke about English deforestation and explained the urgent need for a National Timber strategy.
We're pleased to say that work on drafting a strategy is finally beginning. So watch this space. Tom is hoping to present some progress at the Confor Forestry Conference in Westminster next month.
The conference, entitled 'Timber! Why the UK needs the wood – and the trees' is on the 8th December.
Sycamore success stories at Future Trees Trust
Since 2019, Vastern Timber has been supporting the Future Trees Trust in their mission to help future forests thrive.
As part of their ongoing work with sycamore trees, the team is now working on trials, which are the "culmination of years of design and planning".
We asked head of research, Dr Jo Clark, to tell us more about their success with sycamore.
COP 27, COP 26 and 'Wood for the Trees'
The UK's year of leading COP wasn't the most successful. In fact, it was described as "wasted" and "woefully insufficient" by the UN Environment Program.
As we're now in the middle of COP 27, the Wood for the Trees team have revisited a film they made for COP26. The film,'12 ideas to help UK forests thrive', features a range of expert suggestions to help UK forests.
Despite some success stories here, there is still a pressing need for action.
Book of the month
Our book of the month is 'Ariel Atlas of Ancient Britain' by David Abram. This stunning book offers us a longer term, 'helicopter' view of how landscapes change.
Abram is an artist using aerial cameras to capture images of prehistoric ceremonial sites and settlements, usually at dawn. He says: "my large-scale works render visible sublime forms barely discernible at ground level."  We say: "wow".