December 2022 News from the Sawmill
This month, we're taking you on a colourful tour. Join us behind the scenes at a glitzy award ceremony, head into the first 'Grown in Britain' home, and visit our sawmill with DEFRA.
You'll also get a sneaky peek at our new film, which we showcased at 'Timber!' – the forest industry conference where Tom called for help in creating a National Wood Strategy.
It's been a busy, fantastic and fascinating few weeks.
Ready to go? Great.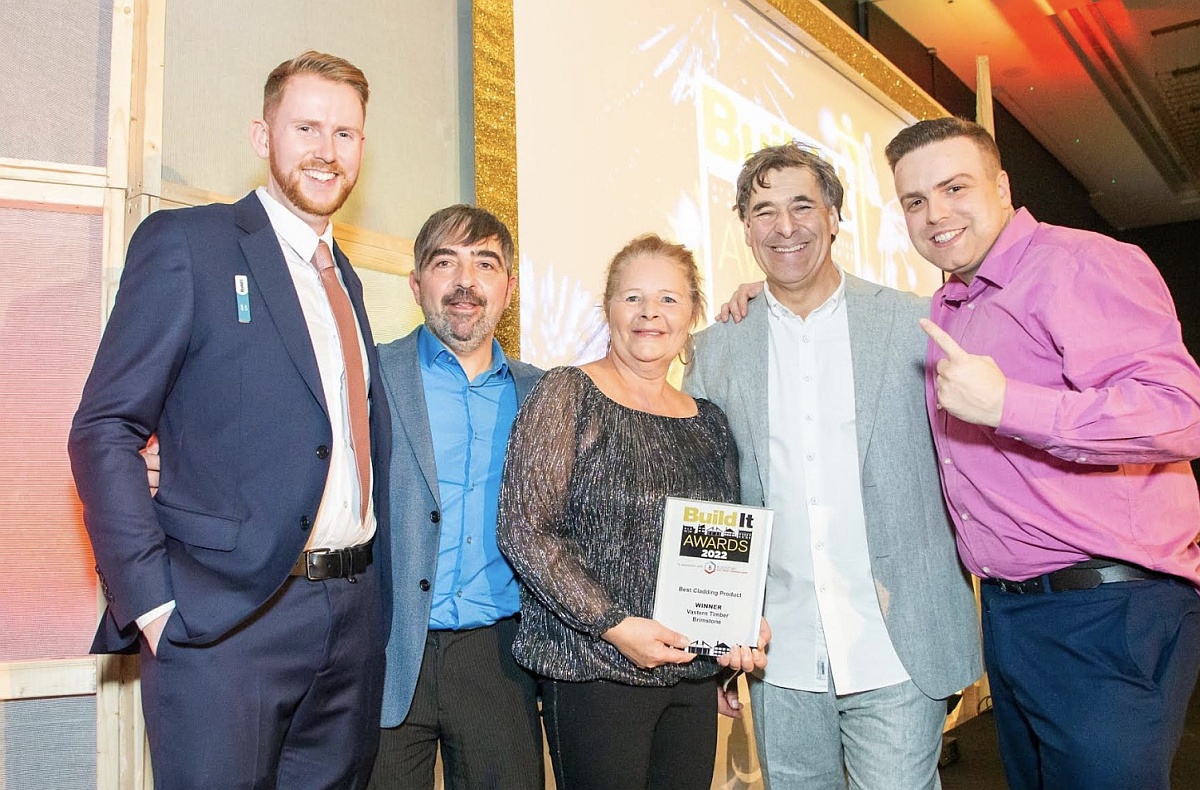 Brimstone wins Build It Best Cladding Award
We're not usually ones to blow our own trumpet, but it's always nice to see the team's work recognised.
This award from Build It magazine celebrates cladding that is seen as the de-facto choice for self builders. It could have been anything from a type of timber covering to render, metal or brick slips. Judges were looking for innovation, sustainability and value for money.
Dee, Wolf and Stefan collected the award at the glitzy ceremony.
Defra team visit sawmill and showhomes
It's our mission to encourage more use of local wood. So, with our friends at Grown in Britain and Veya Homes, we recently hosted a tour for visitors from DEFRA and the Forestry Commission.
We showed the visitors stacks of timber certified 'Grown in Britain' and explained how we process and modify this locally grown wood, producing timber for cladding, flooring and more.
Brimstone cladding for the first certified home 'Grown in Britain'
After a tour around the sawmill, we joined the DEFRA team to check out the first homes to be certified as 'Grown in Britain'.
These stunning 'Veya Homes' are clad with Brimstone and show the real potential of using homegrown timber. They're gorgeous, warm and energy efficient. What more could you want for your home?

Timber! Why the UK needs the wood – and the trees
Confor's Timber Conference was the first face-to-face London forestry conference for a few years. At the event, our MD Tom Barnes announced the next steps in developing a National Wood Strategy for England.
Tom told us: "The National Wood Strategy for England has a single focus on the planting, growing, harvesting and processing of conifer and broadleaf trees in England for the production of timber. Covering a 40-year period, the strategy will highlight the opportunities for innovation and growth in a sector that can contribute positively to net zero, biodiversity gain, housing and health.".
If you'd like to have your say in shaping the strategy, please share your thoughts here.
'Wood for the Trees' film debuts at Timber Conference
The latest instalment in Tom and Charly's film series asks: Why do we need to plant trees?
It's a big question and the episode features no less than EIGHT experts.
Subscribe to our YouTube channel and watch out for the film's release at midday today.
Brimstone shortlisted for ASBP Award
The Alliance of Sustainable Building Products Awards has a reputation for championing truly sustainable building projects, products and initiatives. So, we're pretty happy to be on the award shortlist.
To find out more about the award's 'six pillars of sustainability' and how Brimstone performs, head over to our journal.