April 2023 News from the Sawmill
We've got an Oak theme going on this month. 
Come with us on a trip to West Dean woodland to find out more about some beautiful 'AA' grade oak. Then see how it has been transformed by Gaze Burvill into unique and elegant outdoor seats. 
This month, you can also visit a rewilding project in Yorkshire, hear from Gaze Burvill's sustainable design event, and read a fascinating case study about an oak-framed home gym – trust us, it's stunning . 
Last but not least, you can find out how Tom found himself writing a National Timber Strategy – and rubbing shoulders with politicians at Westminster. 
We hope you enjoy the stories.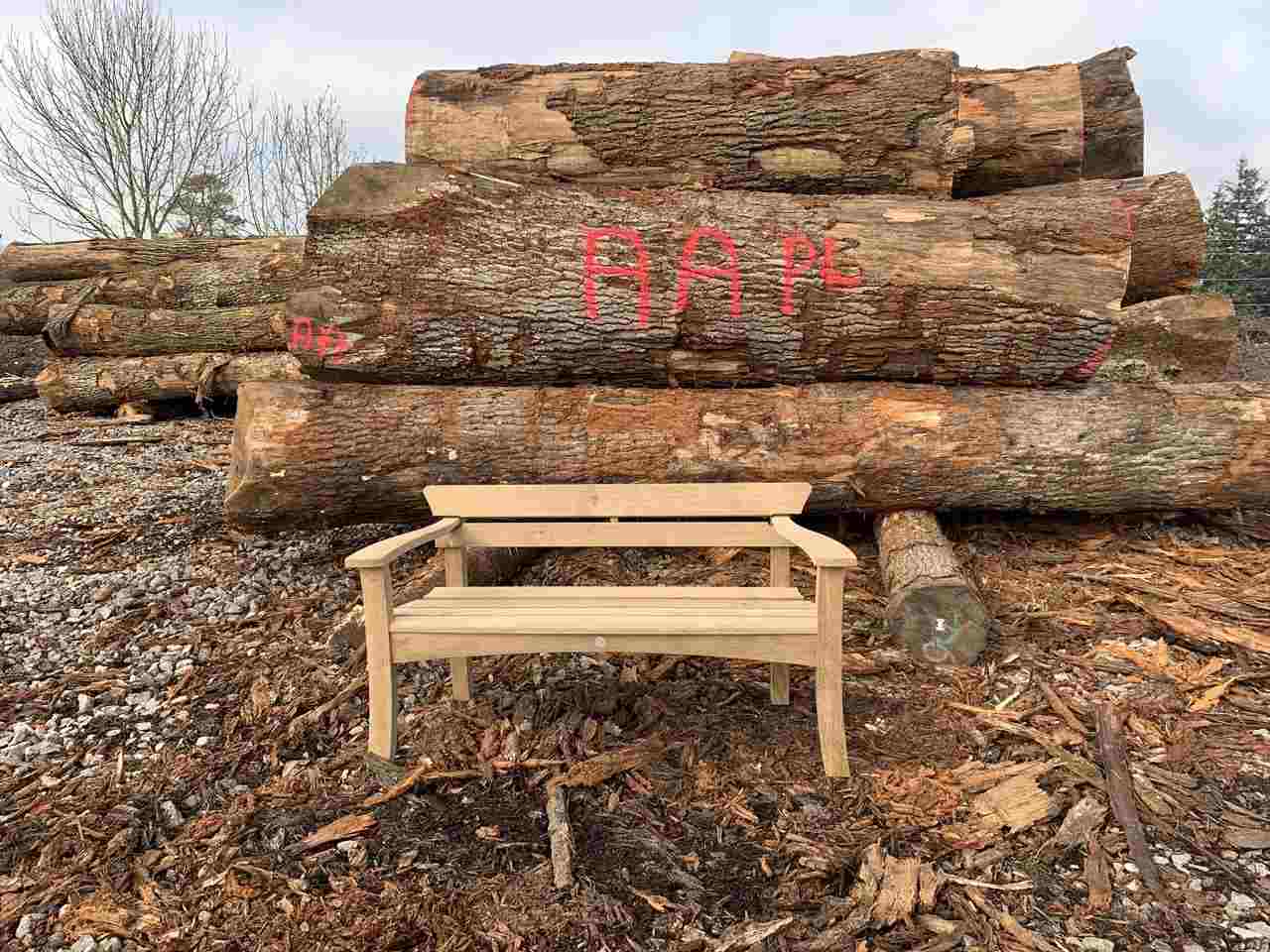 The Amity Seat: Limited edition luxury outdoor furniture
We love sharing stories that take you from forest to finished product. Here's one of them. 
This is the story of stunning 'AA' grade oak from West Dean, which was processed at our Studley sawmills and turned into unique pieces of furniture. The Amity Seat is an elegant oak bench crafted by luxury outdoor furniture makers Gaze Burvill. It not only looks good, it does good too. Every bench sold helps to fund Action Oak's vital work in protecting this iconic species. Take a look.
Gaze Burvill tour, in support of Action Oak
On a sunny, spring day in Hampshire, Gaze Burvill held a trade event called 'Using Wood for Good: Design in the Sustainable Age'. The audience, panel and Gaze Burvill team all engaged in thought-provoking discussions. These included how we can – and should – use more wood in all aspects of design.
Wood Backstories
All of the oak used to make the Amity seat was grown locally at West Dean. So, this month we're taking you on a 90-mile journey from our sawmill to this amazing woodland. Come with us to discover more about the trees, the processes and the patience needed to make the most of this special timber.

Wood for the Trees: Rewilding in Yorkshire
The latest Wood for the Trees film is now ready to watch. It's brought to you from the Broughton estate in Yorkshire – one of the largest tree planting projects in England.
This is our second interview with Alastiar Driver of Rewilding Britain and we cover a lot of ground. Alastair talks about the choice to plant trees rather than relying on natural regeneration and the challenges he faces in protecting trees from deer and rabbits. You'll also hear about his hopes for degradable tree guards and the Nature for Climate Fund. Take a look.
Case Study: DIY oak framed home gym
"I have found green oak a real pleasure to work with. It looks great, doesn't involve concrete, and has a historical element to it, which is a big draw".Tackling every aspect of the project himself made it more affordable and meant Cain could add his personal touch, and gained a real sense of achievement. We love it.
National Wood Strategy for England update
When Tom highlighted the need for a national timber strategy, he wasn't suggesting he'd write it. But when he was asked to take on the challenge, he couldn't say no.
The Timber Strategy for England is now coming together. And Tom was in Westminster last month, talking timber strategy with politicians, environmental groups and industry representatives. 
The timber trade body Confor said: "UK Forestry Minister Trudy Harrison MP has backed a proposal to bring together government, industry, green groups and farmers to increase future supplies of home-grown timber." You can read more about it all here.
Dezeen: Mass timber series
This month, design magazine, Dezeen, explores the potential of mass timber. This special series looks at the possibility of going back to wood as our primary construction material.  Would this shift make a genuine difference? Would it help lead the world to a more sustainable future?