A DIY oak-framed home gym
Meet Cain, a house husband with a background in engineering and a long-held idea of creating a unique oak-framed building in his garden. 
This was no simple idea. It involved the design of a full hipped roof and crook frame, as well as a glazed internal/external section within the frame. 
With his children now at high school, Cain finally found the time to get the details right – and bring his project to life.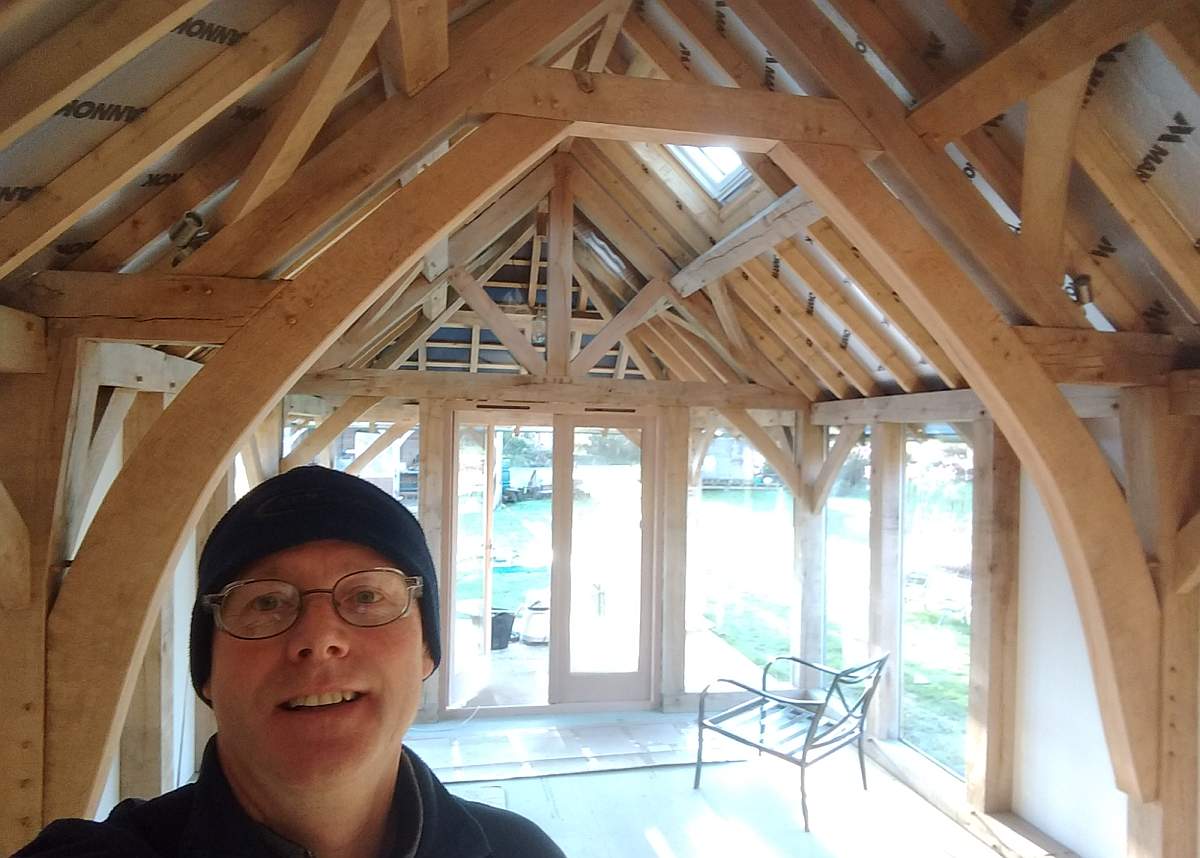 Green oak: the wood of choice
With a history in engineering and plenty of time spent dabbling in oak framing, Cain knew he wanted to use green oak for his project.
"I have found green oak a real pleasure to work with. It looks great, doesn't involve concrete, and has a historical element to it, which is a big draw". He also loved the wood's beautiful natural textures and defects. 
The joy of DIY
By tackling every aspect of the project himself, Cain made it more affordable. He was also able to add a personal touch and gained a real sense of achievement.
To complete the project, he bought ancient books and acquired specialised tools like a corner chisel (a life saver which he discovered from watching Grand Designs) and a Mills Falls boring machine from the turn of the 20th century.
All of these items helped him to overcome some key challenges. One of these was the struggle to drill deep holes perpendicular to the face of the beams. An issue that even professional oak framing companies seem to experience.
A three-phase design
The resulting oak-framed home gym is the centrepiece of a larger three-element building which Cain drew up in his spare time and then gained planning permission for in 2019. 
There's no denying this was an ambitious project. However, splitting it into phases meant Cain could manage the costs, stress and achievements over time. He told us: "It meant that if I only completed one third or two thirds of the building, it won't be an expensive part-built folly!".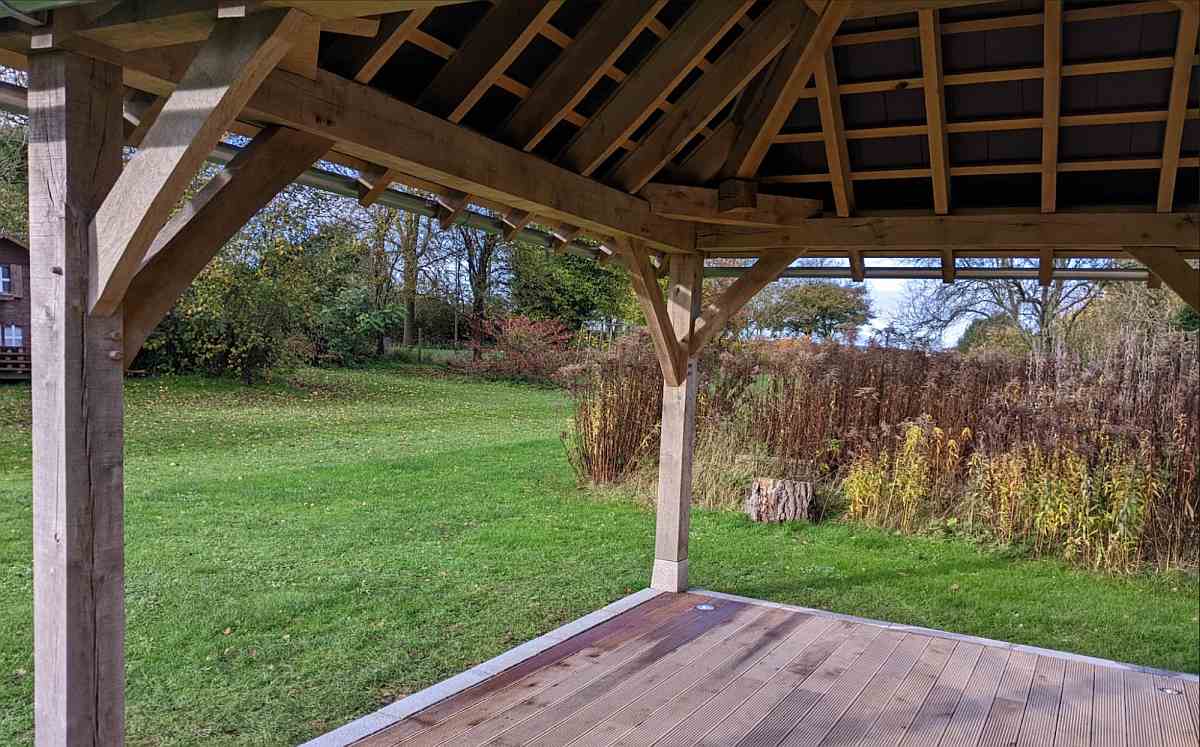 Working with building control 
During the process, Cain came up against some resistance from building control. However, he eventually realised that the structure's internal floor area was the key factor that determined whether building control needed to be involved or not.
As the central gym internal floor area is a fraction of the roof footprint (due to decked area and wall thickness), he was able to work around the need for building control at the first stage.
Now he's moving onto the second phase, building control are involved, but they've been very enthusiastic. As Cain explained: "my building control officer has even taken photos for his own personal benefit and has lent a hand when digging the columns for the foundations!"
A little help from the sawmill
It wasn't just building control that played a small part. We're proud to have offered a little help too. Cain kindly mentioned our fork lift truck driver, Mark Lawrence.
"Special thanks to the fork lift truck driver at the Yard at Studley who is getting used to me turning up with a tiny trailer. One of the biggest challenges of the whole project is that of unloading. Collecting small amounts allows me to take my time unloading, a task otherwise impossible with the absence of my own fork lift truck".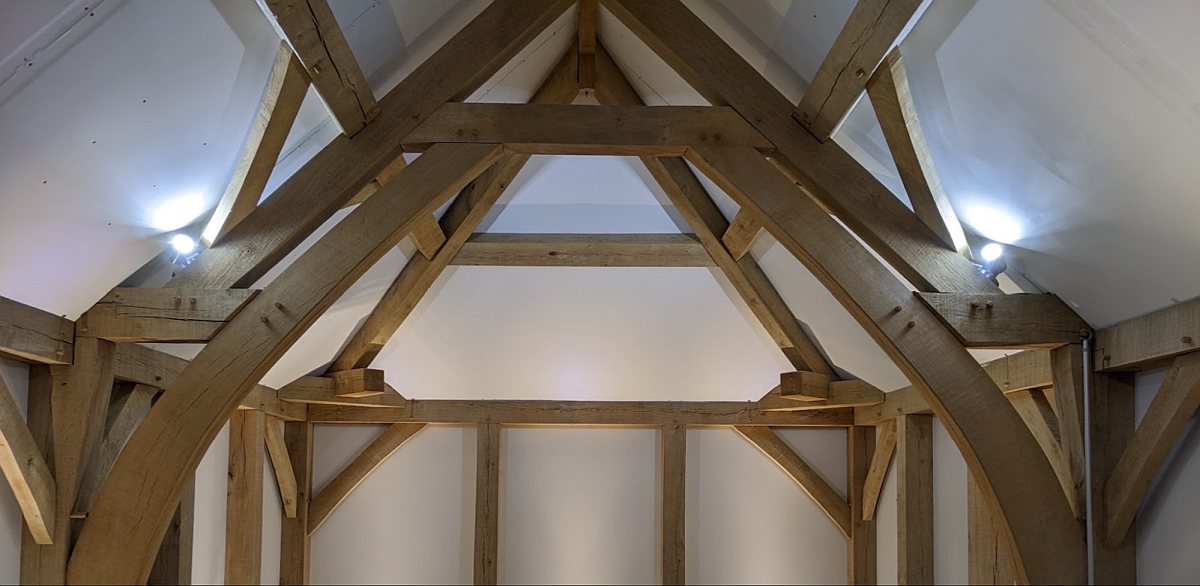 A call to fellow DIYers
Cain wholeheartedly encourages more DIY enthusiasts to try their hand at oak framing. He cites the amazing satisfaction and cost savings that come with these kinds of projects.
"I would highly recommend more DIYers take up oak framing, it's incredibly rewarding and if you have the time, it saves a fortune in labour".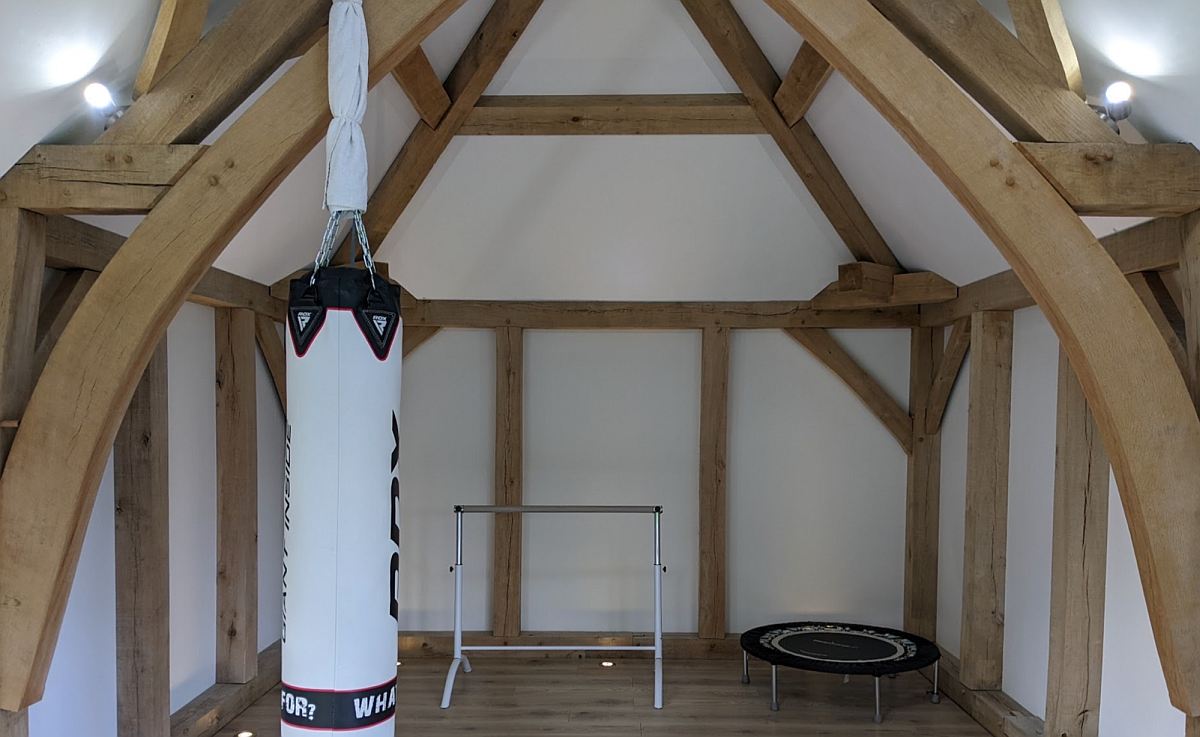 Feeling inspired?
If you like the idea of building a home gym, or fancy doing some DIY timber framing, we can help you find the right wood for your project.
Please get in touch to talk through your ideas. We'd love to hear what you have planned.