English Cherry sawn timber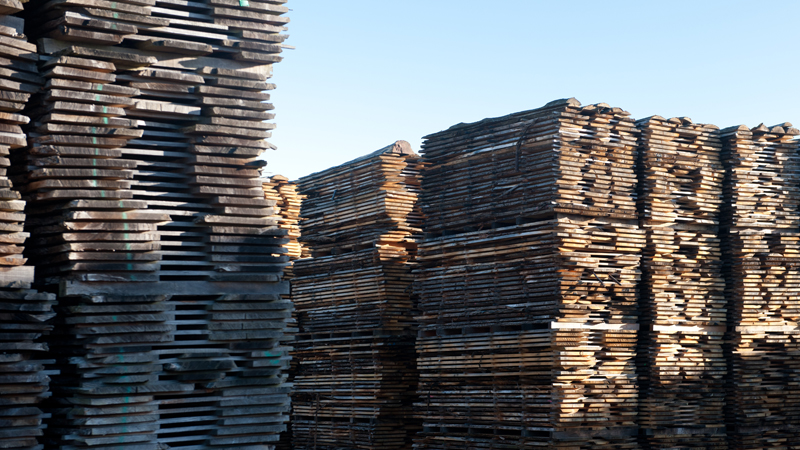 Waney edge English cherry drying
The native range of the wild cherry extends through most of Europe, western Asia and parts of northern Africa. Our Cherry is sourced predominantly from England and occasionally from France.
Cherry is one of the few fruit woods commercially used in the UK for both furniture and joinery. The natural, warm luster and attractive grain of English cherry set it apart as one of the most luxurious species from our native forests.
Appearance
Waney edge boards of cherry will be supplied with wane (bark) on one or two edges.
The sap wood of cherry is a creamy white colour which contrasts with the light pink of the heart wood. English-grown cherry can develop green tints and streaks which add interest.
The diameter of the cherry tree is small in comparison to other commercially used trees, which results in relatively narrow boards. Additionally, the core of a cherry tree is often rotten which further reduces the width of usable timber.
To avoid disappointment please make an appointment before arriving at either yard to select sawn timber.
Technical Specification
Common name
Cherry
Other names
Wild cherry
Family
Rosaceae
Genus
Prunus avium
Unit of sale
M3 (Cubic meters) (1M3 = 35.315 Ft3)
Kiln dried weight
Approx 630KG / M3
Specification
Supplied in waney edge sawn boards
Width range
100mm – 200mm +
Dimensions

Description
Board
thickness (mm)
Board thickness (

"

)
Kiln dried boards
27 / 41 / 54
1 / 1½ / 2

Moisture content

Description
Board
thickness (mm)
Moisture content
Kiln dried Boards
27 – 54
10 – 14%

Durability
BS EN350-2.  Moderately durable.
Workability

| | |
| --- | --- |
| + | Fine finish from straight grained wood. Silky grain for painting and staining |
| – | Curly grain can tear during machining |

Grades available
English cherry is available in the following grades but please note that not all thicknesses are available in all the grades:
First Joinery
This is our standard joinery grade where only occasional knots up to 40mm diameter are accepted. The grain may be slightly angled and some colour variation is likely. Larger knots and defects will be measured out. Centre splits and rot are accepted but a suitable reduction in measure will be applied.Accepted: Grain deviation, occasional knots up to 40mm. Other isolated defects if measured out.Not accepted: Shake, rot away form the heart, excessive worm attack.