September 30, 2021
"Where the magic will happen"
"This is where the magic will happen" said Tom Barnes, at the site where Vastern Timber's new thermal modification unit will soon be installed.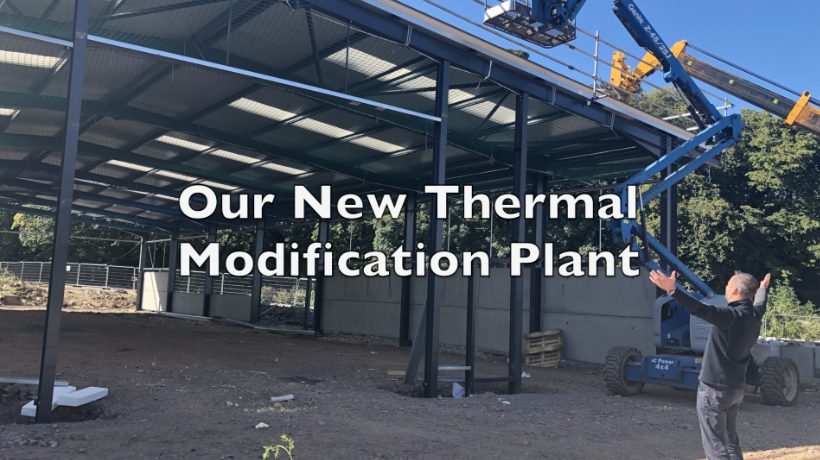 "This is a brand new unit, the first of its kind in the country." said Tom, managing director of Vastern Timber, speaking at the Wootton Bassett site where the new building is under construction. "This is where we will make Brimstone, our thermally-modified, British-grown timber." said Tom. "The process changes the wood. Thermal modification transforms locally grown wood into a highly durable, stable and consistent timber that's ideal for external applications like cladding, decking and joinery." 
"We will use thermal modification to transform British grown ash, poplar and sycamore – which are not naturally durable – into Brimstone, our locally sourced, durable timber cladding & decking range." Thermal modification is a modern, toxin-free process that (almost) magically transforms non-durable timbers into a long-lasting cladding. The timber is heated to over 200 degrees in an oxygen-free kiln, and the process actually alters the cellular structure of the timber, fundamentally changing the way the wood can bind with water. "The result is very durable, stable and consistent timber, that we call 'Brimstone'."
Vastern Timber proudly launched Brimstone in 2016. It was the first thermally-modified, British grown timber product, and has since "proved very popular," Tom explains. 
"Customers love the look of Brimstone, and say the fact that it is locally sourced is a bonus"
Brimstone has grown in popularity so much that there is currently a waiting list. Unfortunately, the project to install the new on-site thermal modification unit at Vastern Timber's Wootton Bassett site, and increase production capacity, was delayed by "a pesky water pipe."  
"The good news is that our new production unit for this popular range of British grown timber is nearing completion." Tom hopes to be testing the thermal modification plant by the end of this year, and ramping up production of Brimstone in 2022. "The even better news is that this thermal modification unit at our Wootton Bassett site will have solar panels installed to generate energy for the kiln, to minimise the carbon impact of the modification process." 
The development of this brand new, state of the art production unit, is a big step forwards for Brimstone, and an exemplary success story for sustainably sourced, homegrown timber. Tom said, "It's super exciting that we're now making progress after some frustrating delays with this project. Soon we will be taking local timber from within 100 miles of our sawmill, we will be milling it here, kilning it here, then modifying it here, we'll machine it here, and then finally sending it out to make beautiful buildings, probably within 100 miles of this sawmill."