Brimstone Poplar cladding completes "inspirational" Science Park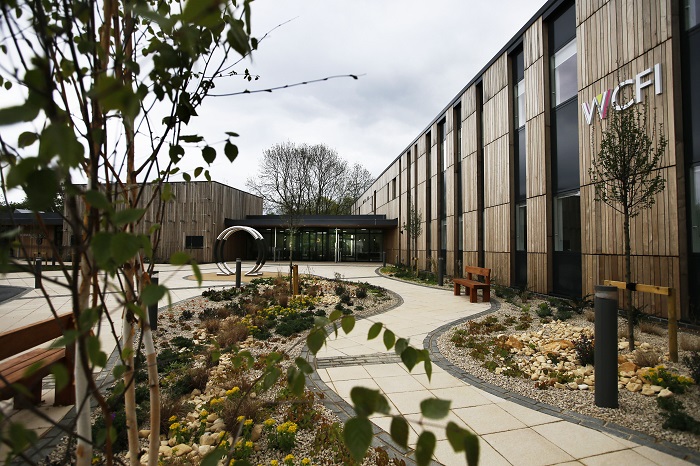 The Oxford Trust's new innovation centre at Stansfeld Park is an inspiring development, providing space for science and technology start-ups, and teaching facilities for primary-aged science education. 
Named after its patrons, Sir Martin and Lady Aubrey Wood, the development aims to boost enterprise, education and engagement with technology, "inspiring the next generation."
Built  in the 'urban wildspace' of a former quarry, these impressive buildings are designed to fit with the leafy surroundings of mixed broadleaf woodland and natural ponds. To this end, all facades are clad in locally grown timber cladding that will be allowed to weather to a neutral grey over time.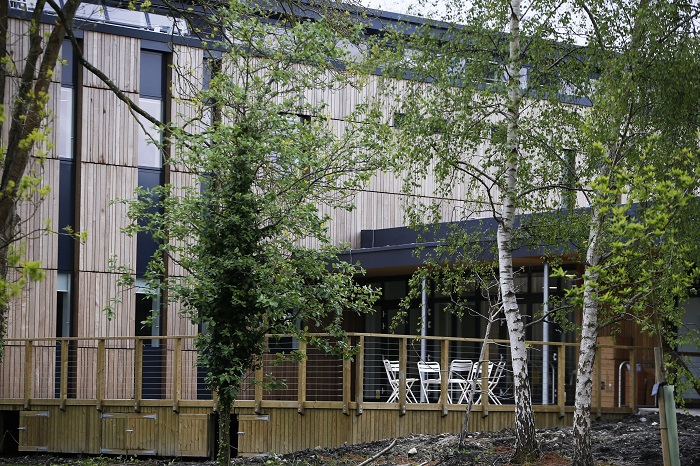 Tom Barnes explained that "the development called for a cladding that would be durable, cost-effective, and sustainable, in the true sense of the word. We supplied 1400 square metres of our Brimstone poplar, which was one of the biggest orders so far for our innovative and  award winning cladding. It's hugely satisfying to see such a large development entirely clad in homegrown timber."  
Additionally the south facing elevation called for a run of Brimstone poplar solar shading, which was achieved by installing 222 vertical louvres attached to a metal frame. Installed by Facade experts Solinear of York, each louvre was supplied profiled to a dimension of 40 x 140mm. "As well as providing the practicalities of solar shading these louvres also create really interesting shadow patterns on the cladding panels."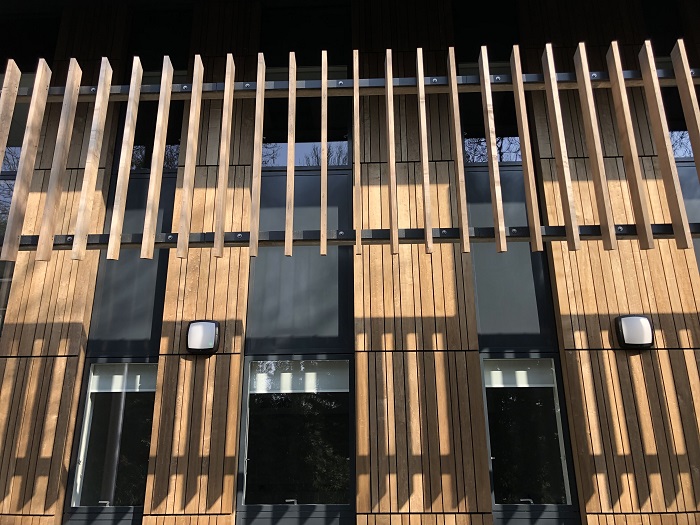 Awards and acclaim for Stansfeld Park
The development at Stansfeld Park is in the running for two prestigious British Building and Construction Industry Awards– the Social Infrastructure Award and Community Engagement Initiative of the Year. 
Beard Construction, the builders of this development,  have been nominated for two Construction Excellence awards. The team is especially proud that Project Manager, Kenneth Hale, was nominated for Construction Manager of the Year for his work on the project.  
The  development has also been shortlisted for the Oxford Preservation Trust Awards, in the New Building of the Year and Landscape/Natural Realm categories. 
As the Trust reports on its blog, the multiple award nominations are  a huge boost for the team behind this project. "The Stansfeld site remained hidden for almost 70 years, with limited access to the local community until the Trust bought it in 2016.  Now it's providing a venue for science education, engagement and enterprise that the city, region and neighbouring community can enjoy and benefit from. We are honoured and delighted to be shortlisted for so many prestigious awards – lets hope some of those admiring glances pay off!"   https://theoxfordtrust.co.uk/2019/07/03/our-new-development-at-stansfeld-park-shortlisted-for-lots-of-awards/
Choosing Brimstone Poplar 
Brimstone Poplar was chosen for this development by the CEO of The Oxford Trust, Steve Burgess for its aesthetic appeal, for its carbon-positive properties, and because it is British grown wood sourced from within one hundred miles of Oxford.
Vastern Timber produced and delivered 1400 square metres of Brimstone poplar cladding for the project.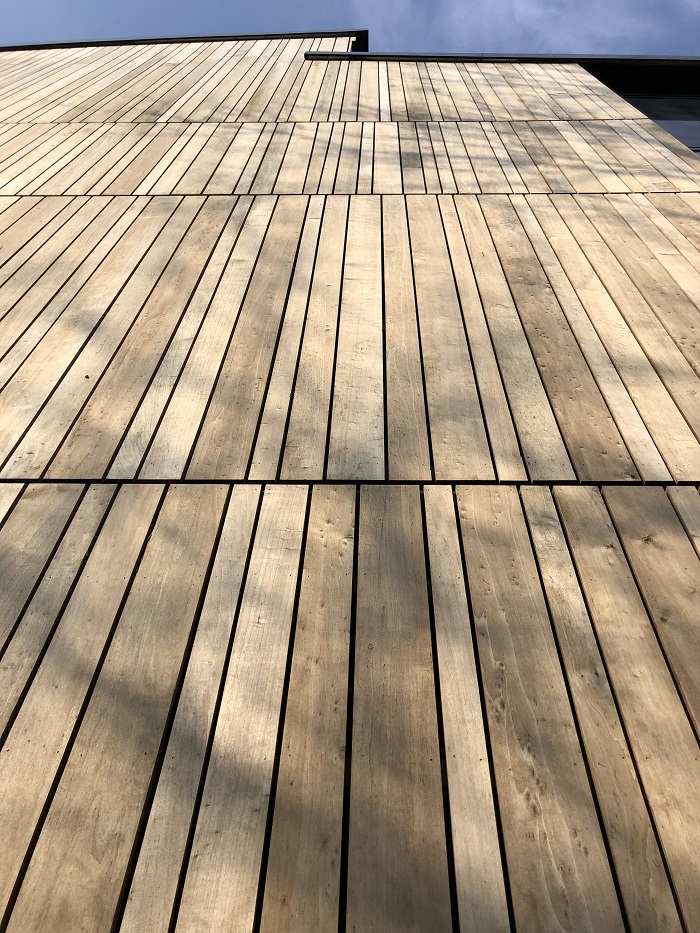 The Stansfeld Park development was designed by ADP architecture. They said the design incorporates "timber from native tree species… for the wood cladding, which together with 'living walls' of climbing plants, will help the building integrate with its setting."  
Tom explained that "although Brimstone had already been selected by the client, I thought it was important to make sure that the architects were on board with the choice, so we took two architects from ADP to a Grand Designs project in Worcestershire to see Brimstone poplar cladding in situ after twelve months of weathering."
Details and shadow gaps
The cladding was detailed as square boards in mixed widths of 65mm, 102mm and 140mm and in various fixed lengths, to create horizontal and vertical shadow gaps within the cladding. 
Tom said "the fixed lengths and multiple widths added a challenge to the project for us, but we could see that this detailing was important to break up what could otherwise be a very large facades of featureless wood. I also like the black membrane and black painted battens that help to emphasise the gaps between the cladding boards."
The cladding boards have been installed without a coating and will be allowed to weather to a silver grey patina over time. 
"One of the advantages of Brimstone products is that they do not contain natural 'extractives' such as oil or tanin that can cause unsightly staining on external wood. As a result the weathering tends to be relatively even and tidy when compared to other popular cladding species such as Canadian cedar and oak," said Tom.
"Because Brimstone poplar is extremely stable we were able to recommend the use of a second fix nail gun delivering a 50mm stainless steel brad headed nail. The advantages of this method are that it is quick for one, while not damaging the surface in an unsightly manner as often happens with first fix guns. The fixings sit just under the surface and are virtually invisible once the cladding starts to weather to a silver grey."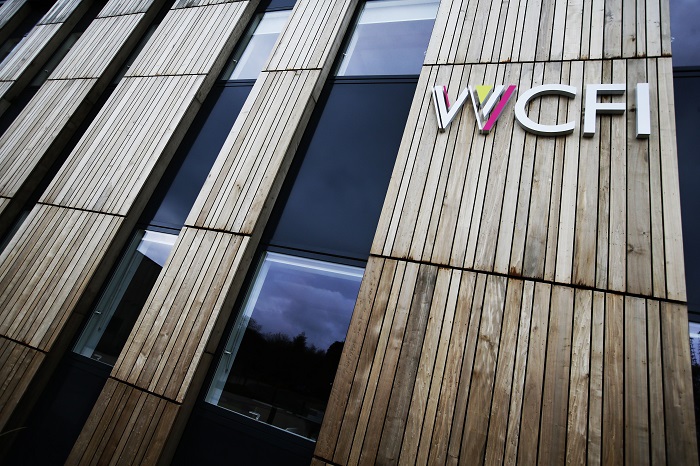 Finishing touches from student designers
The Trust commissioned students from Oxford City College to design benches for the new site, asking them to create designs that would work in the setting and for the wide range of people using this space. They said "much of our new development at Stansfeld Park is wood clad from British poplar supplied by Vastern Timber. We wanted the benches to tie in with the building and Vastern Timber agreed to be involved in the design project and supply the materials."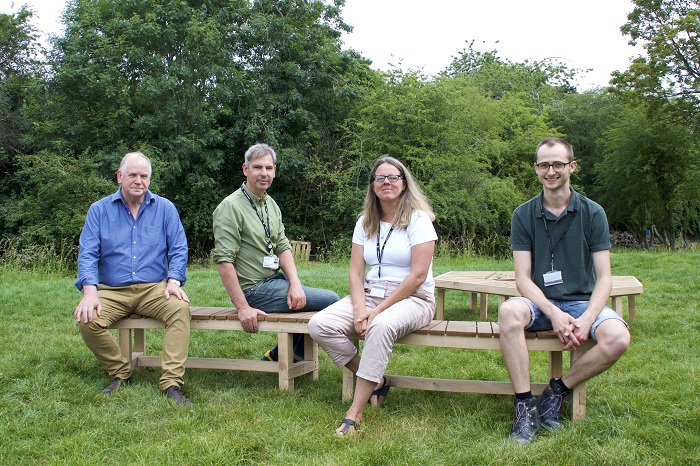 Tom had great fun helping to judge the students designs, and we're delighted to see these finishing touches for the project delivered.
The site will open to the public in September 2019.  "It demonstrates how successfully local materials can be used in regeneration projects, and it's an inspiring place to visit."