Modernising a mock-Georgian property with Brimstone poplar cladding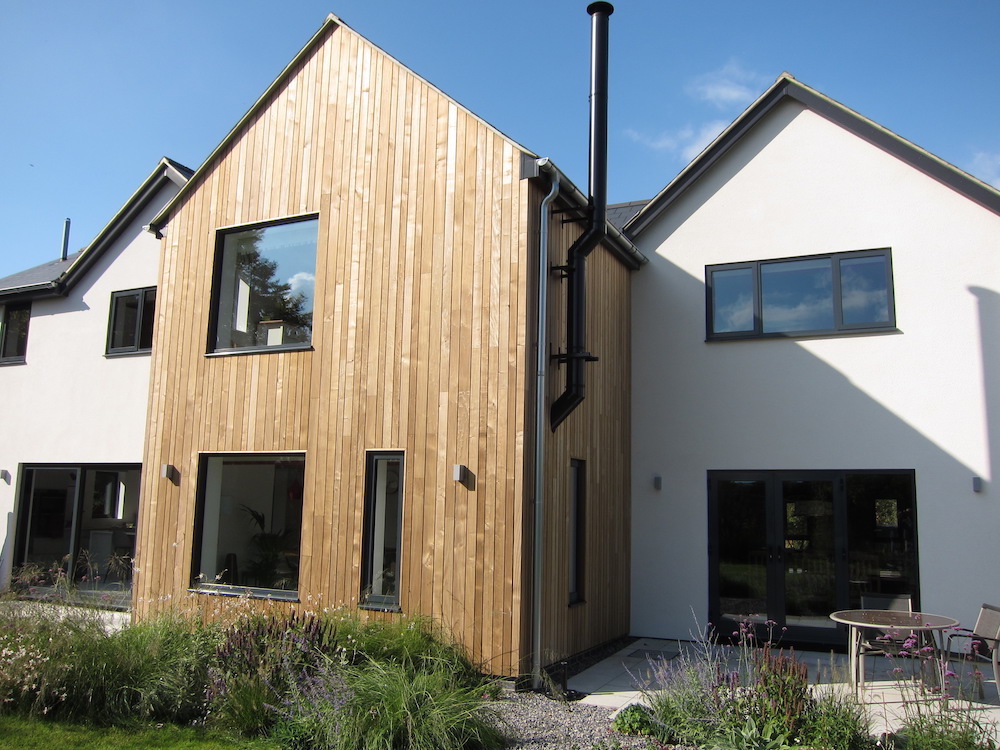 Our client, an independent wine merchant based near Didcot, chose Brimstone Poplar timber cladding, as part of a major renovation.  The project transformed their home from a mock-Georgian to a modernist style.  He told us why they chose to improve, instead of move, and why they selected Brimstone poplar cladding for this project. 
"Our property was built about 50 years ago and although situated on a good-sized plot in a quiet location, it was looking dated and tired. We wanted to stay in the village, which benefits from a great community spirit and social life, so it made sense to upgrade our home.
The plan was to improve and increase the amount of living space within the same general footprint, modernising the interior, making it light and open plan. Externally we wanted to transform the original mock Georgian house – complete with hanging concrete tiles – into a 21st century contemporary property with a slate roof, aluminium windows and monocouche rendered walls.
To break up the expanse of render, we wanted to use a certain amount of wood cladding, installed vertically in the contemporary style – both on the new extension and on one other wall.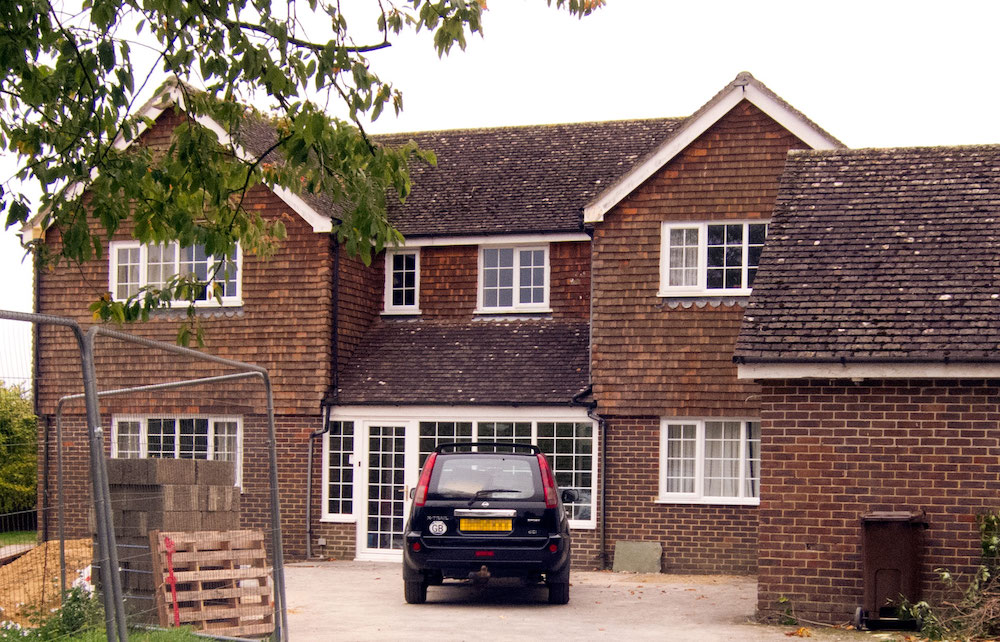 Brimstone Poplar appealed because of its longevity and lack of maintenance, together with the crisp appearance and neutral colour. The fact that it is British grown was a benefit at a time when we are all conscious of our carbon footprint.
We were surprised how light the Brimstone product is, and extremely impressed with the accuracy of machining, making it easier to create the precise appearance we wanted to achieve.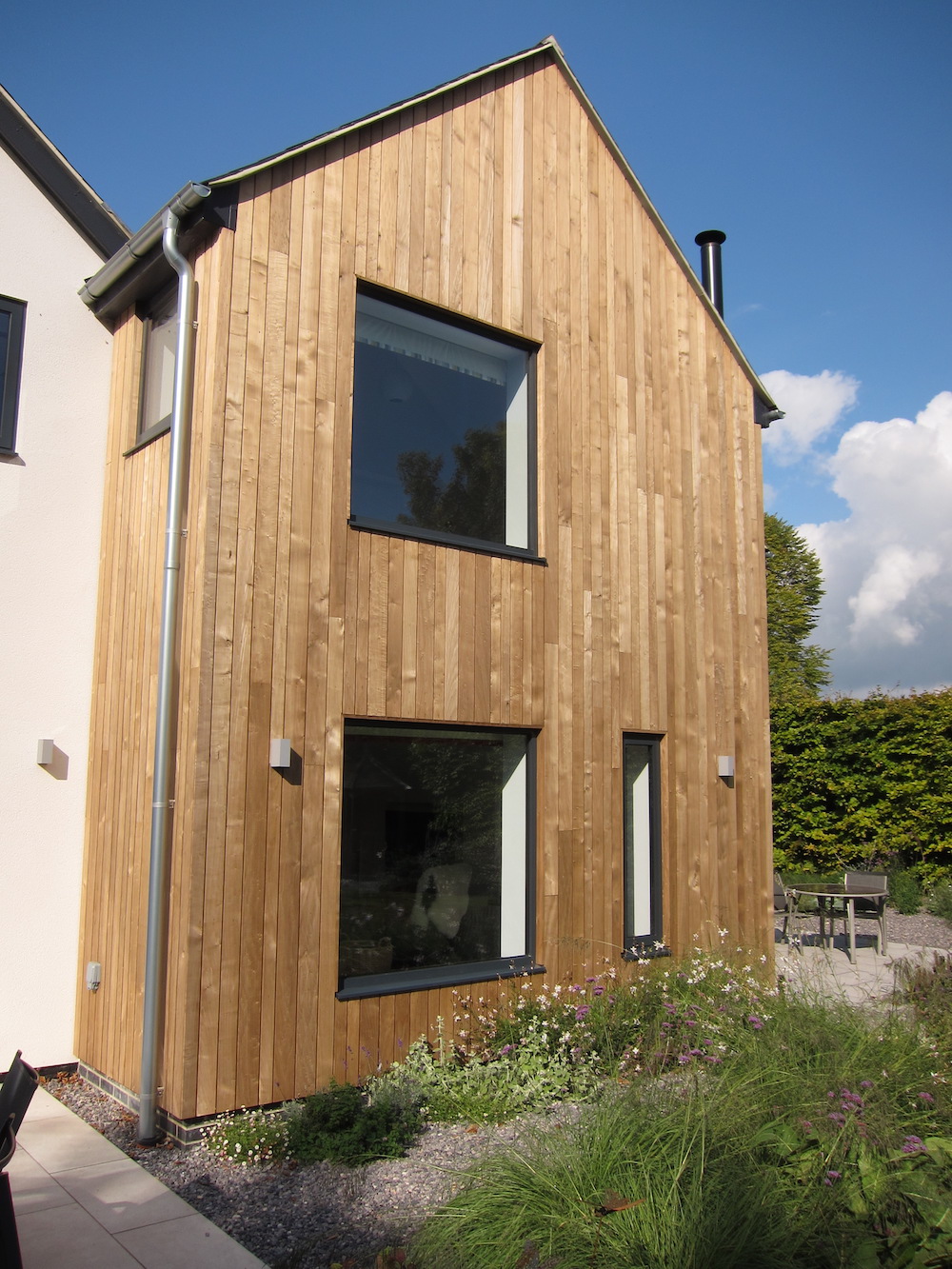 We did the installation ourselves, in part to guarantee the quality of workmanship and attention to detail we wanted. Working with 700 metres of timber is no light undertaking, when every length needs to be measured, chosen, and cut precisely – especially while having to climb up and down a scaffold! Nonetheless the installation was not in itself difficult, and with steady progress the work was completed over a period of 2-3 weeks.
We had chosen to use three different widths of timber, with a shadow gap, to create the pseudorandom contemporary appearance. As it turned out this worked to our advantage, as it meant – with some very careful calculations and computer modelling – that we could align features such as windows and doors with the edge of a board, resulting in a very precise and tidy finish.
The timber, which was varying shades of chocolate brown on delivery, quickly faded to an attractive honey colour, and we expect that it will continue to silver to a contemporary grey over time. When it rains, it again turns brown but quickly dries without leaving tide marks. The end result exceeded our expectations, both in terms of its smart appearance and colour."