July 13, 2016
Vastern Timber launches Thermally modified Hardwoods at CPD Presentation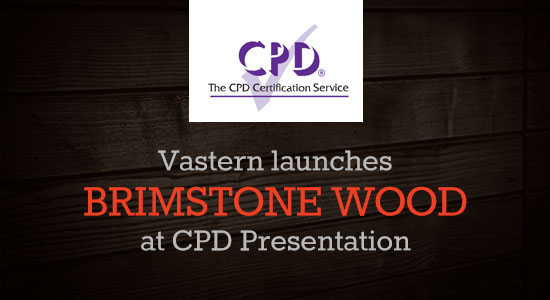 Vastern Timber, the Wootton Bassett based sawmill which in March launched Brimstone, the first commercially available thermally modified British timber, has also produced a CPD presentation designed to educate specifiers about the history, development, production and benefits of thermally modified hardwoods.
Entitled 'Thermally modified hardwoods in construction' the CPD presentation is extensive and explains modified wood choices, the thermal modification process in detail, advantages and disadvantages, comparison of species and products, and an explanation of the benefits of choosing British sourced products over imported products.
Talking about the presentation, Tom Barnes, Managing Director of Vastern Timber said "Brimstone was very well received when we officially launched it to the industry at Ecobuild 2016. However, while people were obviously impressed with the product and the benefits, there was clearly an appetite for more information about thermally modified wood.
"The CPD presentation aims to give architects, furniture makers and other specifiers a complete overview of the history and development of thermally modified wood and explains how timber supply is responding and adapting to changing construction context, as well as giving an in-depth analysis of the production process and performance of products. It also underlines the huge sustainability benefits of specifying British products, which was a key driver in the development of Brimstone and one which was of most interest to our visitors at Ecobuild."
The Brimstone range includes Brimstone Ash, Brimstone Poplar, and Brimstone Sycamore, all of which are common but underused hardwood species in the UK. The thermal modification process allows this underused resource to be used in the production of products which offer exception stability and performance in a range of uses including decking, cladding, and furniture.
"The CPD presentation underlines how timber is maintaining its sustainable status while becoming easier to specify and more reliable." continues Tom Barnes. "We have already presented in front of several architects practices and have been pleased at the response to the presentation and the resulting specifications that stipulate the use of Brimstone."
Specifiers interested in more information about Brimstone, or who wish to receive the CPD presentation should visit the Vastern Timber website.