September 12, 2016
Brimstone shortlisted for 2016 TTJ Timber Innovation Award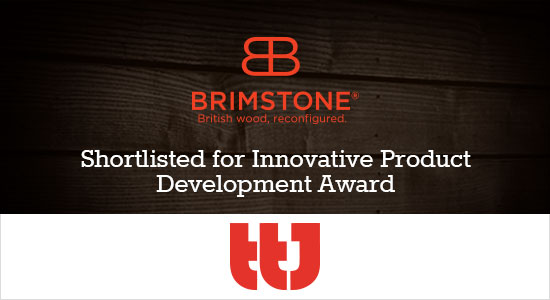 We're excited to announce that Brimstone has been shortlisted for the timber industry's main product innovation award for 2016…
Now in its 20th year, the annual TTJ Awards is the most important ceremony recognising outstanding achievements in the UK timber trade industry – so we were delighted to learn that our new Brimstone range has been shortlisted in the TTJ Timber Innovation Awards, joint sponsored by TRADA and Timber Expo.
Brimstone thermally-modified timber was launched at EcoBuild in February this year and has already been named as the ASPB's Sustainable Building Product of the Month. However, this is the first time that Vastern Timber has been shortlisted for a TTJ Award, and the particular category we've been nominated in – for Innovative Product Development – recognises the ground-breaking work involved in creating Brimstone.
Thermal modification is a chemical-free process that involves reconfiguring wood by super-heating it, which results in a timber that is exceptionally durable and stable, making it ideal for outdoor use. Brimstone was developed in collaboration with organisations including the BRE and Grown in Britain, and the range offers thermally modified ash, sycamore and poplar products all sourced exclusively in this country, meaning that British woodlands enjoy the benefits of long-term sustainability.
Along with the three other award nominees, Director Tom Barnes presented to a panel of TTJ and TRADA judges on 23 August, and the winner being announced at the awards dinner in London on 30 September. All of the shortlisted companies will also present at Timber Expo at the NEC in October.
Brimstone will be on stand T3 / 505 at Timber Expo, part of UK Construction week.
Read more about Brimstone thermally-modified timber here.