A unique cross in English oak by artist Harriet Hill
When artist Harriet Hill needed a particular top grade English oak to create a cross sculpture, Vastern Timber were delighted to help…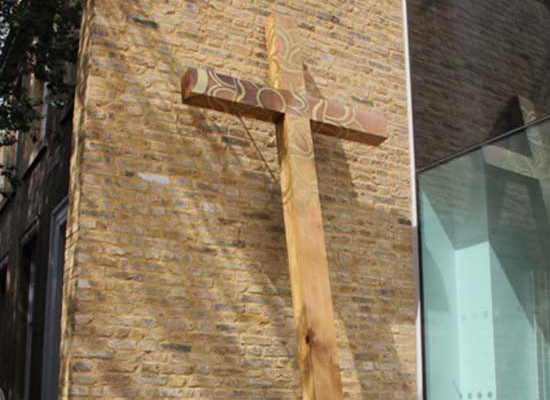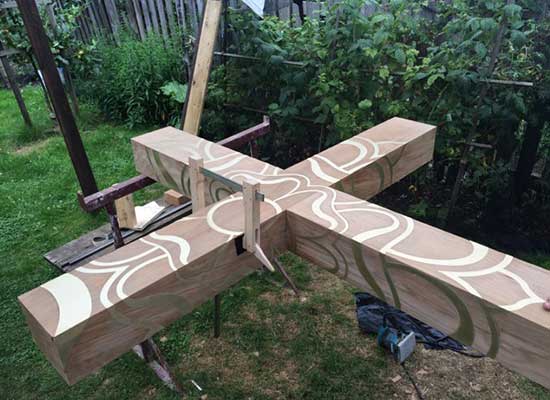 This striking oak cross is the work of artist and prop designer Harriet Hill, who was commissioned to design a sculpture for a new entrance to Lady Margaret School in Parsons Green, London. At an imposing 3.5m it is deliberately disproportionately tall, in order to retain a sense of height when plants are grown around the base. The brass inlay is based on the Tudor rose, which is the school emblem. The wood used is Vastern Timber's well air-dried joinery-quality English oak – a timber that takes years to produce.
First, we have to leave the log for a year to settle. The 150mm plank is then cut and stacked 'in stick' for a further five to six years to completely dry out – a process that cannot be hurried or else there is a risk of the oak splitting. We cut these thick oak timbers from the centre of the oak log, where the boards are 'quarter sawn'. This ensures that the boards stay flatter and straighter as they dry out, and will remain flat and straight after they have been manufactured into items such as the Lady Margaret School cross. Harriet had to hunt far afield to find the right piece of timber for the project. She explains:
"Vastern Timber was the only supplier I could find reasonably close to London that had top grade oak plank in 150mm thickness – and I wanted to be able to go and see what I was buying."
We always enjoy our timbers being used for unusual and unique projects – from bridges to restaurant floors – so perhaps we'll see our wood featuring in future projects by Harriet. She told us:
"Vastern were extremely helpful and I would definitely use them again. We actually bought cedar cladding from them a few years ago as they could supply it unplaned so we could cut to our specifications. They have such a wide range for idiosyncratic projects, not just standard cuts."
You can see more images of the cross and other fascinating artwork and fabrication projects by Harriet Hill on her website.