Lighthouse Mews. A stunning showcase for Brimstone ash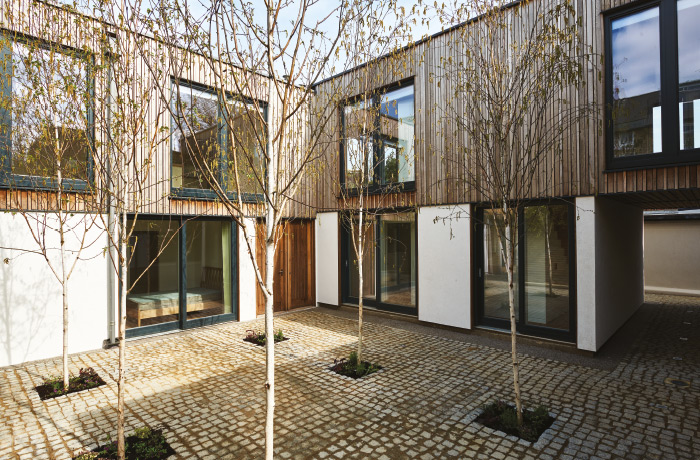 A striking and contemporary residential new build project in De Beauvoir Town, North London was the site for the first major residential installation of Brimstone – Vastern Timber's award-winning range of thermally modified timber.
Stephen Donald Architect (SDA) had secured planning permission for four residential units on land owned by the client – a construction company of long-standing who had decided to transform the land from a builders's yard into sustainable residential homes.
SDA approached Modernarc of London to assist in delivery of the project. Modernarc specialises in the design and construction of bespoke interiors, small buildings, joinery and furniture for both commercial and private clients. As Andrew Wong of Modernarc explains "Timber cladding was specified on the planning drawings and application for the project, but specific timber had not been decided. The architect investigated a number of timber cladding options, but ultimately settled
on using Brimstone ash.
Tom of Vastern Timber recommended Brimstone ash, in part because of its inherent stability and also because it weathers well, even in shaded and potentially polluted city centre environments. The design dictated clean straight lines, which called for a stable cladding material that would remain straight over the long term. Being in a city centre location, it was also important that the cladding did not become patchy or blacken, a common problem with more reactive species such as cedar when left untreated. Andrew Wong from Modernarc said:
"A year on from installation the cladding looks really good, It has weathered to a nice silver colour, which we expected, and looks very handsome. It was our first time working with this product, but we found it easy enough, especially with technical assistance from Vastern Timber. Working with the team at Vastern is always a pleasure as they are very helpful and reliable. Deliveries are always on time and they're flexible to fit in with our programme."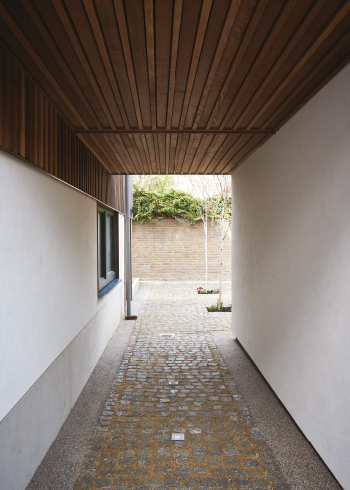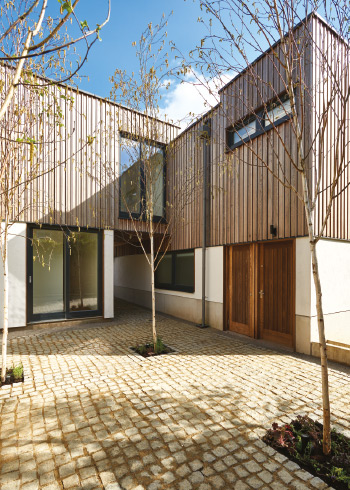 The finished project features three 2 bedroom homes and one 3 bedroom home, all of which have an inverted design with bedrooms on the ground floor and living spaces on the first floor. Each property has its own outside space and first-floor balcony.
Vastern Timber has worked with Modernarc on several previous projects, and recognises the company to be unafraid to try new products. Modernarc is also keen on sourcing materials locally where possible, so Brimstone ash was a perfect fit for this project, as Modernarc's Paddy Heffernan explained:
"Brimstone was chosen to give the houses a different look to the more conventional cladding materials available, and also for its resilience which reduces ongoing maintenance costs. We are now building another house immediately adjacent and as planning conditions stipulate materials that should match the four properties, we are once again using Brimstone."
Vastern Timber worked closely with Modernarc to provide exactly the right aesthetic for the project, supplying vertical cladding to a bespoke profile and design. The layout alternated 20 x 70mm planed square boards with 35 x 35mm projecting fins, each separated by a 5mm gap. The boards and fins were face fixed with stainless steel pins. In total 2,000 metres of each section were supplied, plus sections for the doors and windows.