Bespoke elm flooring for a flagship London restaurant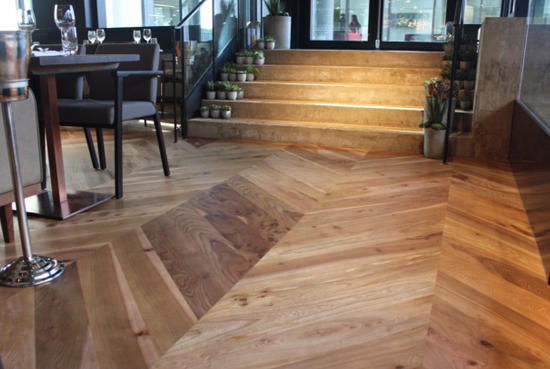 When Drake & Morgan wanted a show-stopping interior design for their huge new flagship restaurant at Kings Cross, Vastern Timber were delighted to be involved…
Drake & Morgan was founded in 2008 and has quickly established itself as a leading name in the London restaurant scene, opening a series of smart, stylish cocktail bars and eateries across the capital. For its new flagship venue – Drake & Morgan at Kings Cross – the company wanted to create a destination restaurant that would be 'the epitome of industrial elegance', set on two floors with two showpiece bars and an open kitchen. A high-end interior design was crucial to the project, and Vastern Timber were pleased to be asked to contribute to its creation.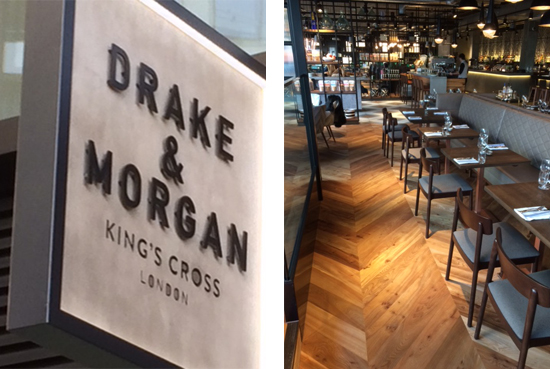 Drake & Morgan's design consultants Fusion DNA had a vision for a unique parquet wooden flooring, using a complex pattern of chevrons as well as squares of wood set amongst tiles. In normal circumstances such commercial flooring schemes would use imported engineered wood flooring which combines a thin layer of hardwood set on plywood a base. But, having used it successfully in previous projects, Fusion DNA were very specific in wanting to use British elm, even though it does not naturally lend itself to parquet patterns.
However, working closely with fitters French Limited, Vastern Timber were able to provide the solution. We selected and processed British elm timbers, then sent them to France to be engineered onto plywood and cut into 100cm x 15cm chevron boards. The final result is a stunning, bespoke engineered British elm floor that plays an integral role in the overall 'industrial' look of Drake & Morgan at Kings Cross – now one of London's most popular smart dining destinations. Tom Barnes, managing director of Vastern Timber, said:
"It's always enjoyable to be involved in challenging projects like this which require a high level of specialist skill and some serious problem-solving. And it's very satisfying to see the final fruits of our labours in such a spectacular setting as the Drake & Morgan restaurant."