November 30, 2022
Brimstone wins Build It award for 'best cladding'
We're delighted to announce that Brimstone Cladding won the Build It Magazine award for 'Best Cladding Product' in November 2022. 
The Build It Award was presented at a glitzy event in central London, hosted by comedian and writer Mark Steel. Presenting the award for 'Best Cladding', he said "our winner is durable and versatile… a round of applause to Vastern Timber for Brimstone!"
Wolf, Dee and Stefan picked up the prize on behalf of the whole team.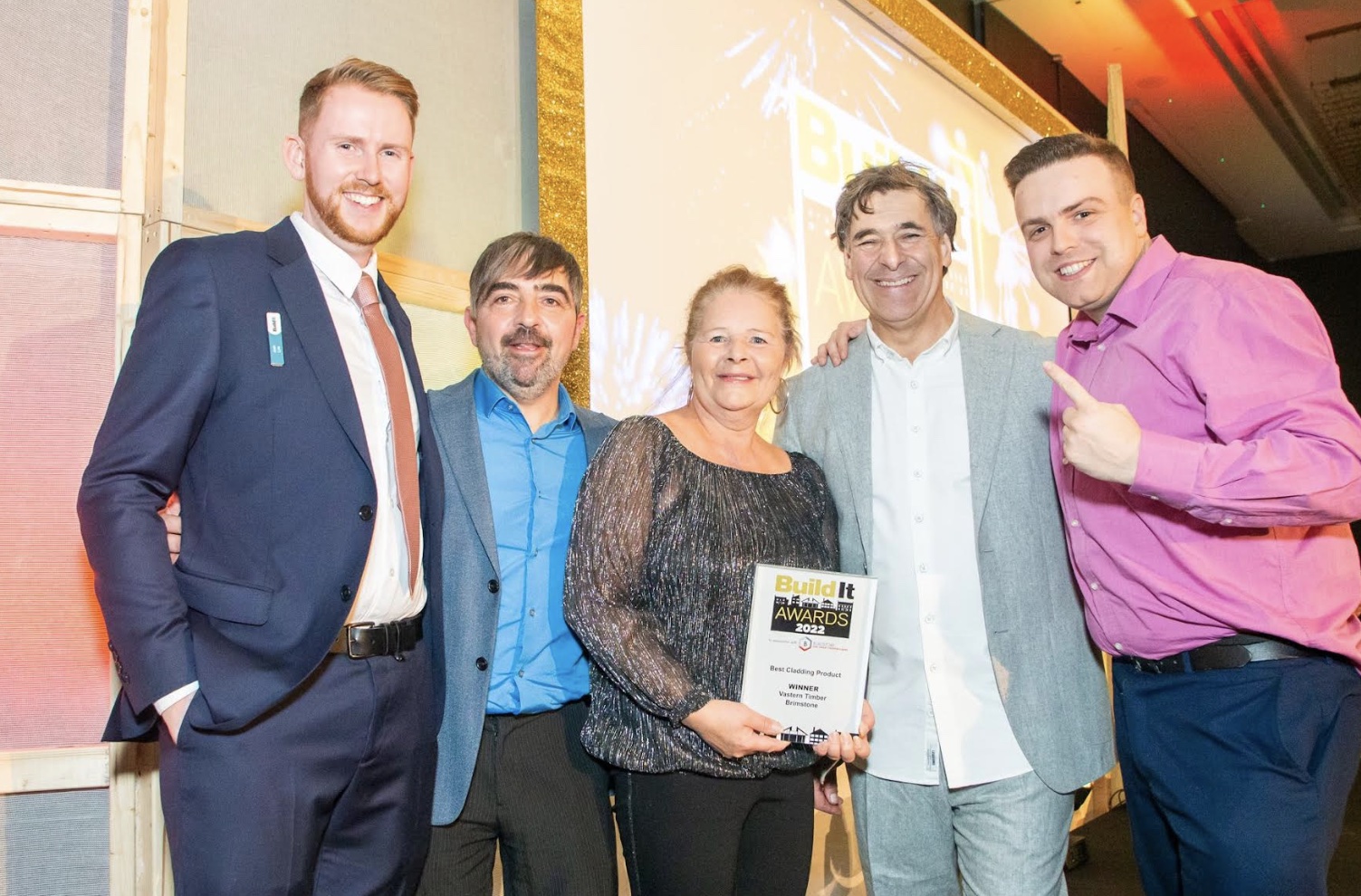 From left: Build It Magazine editor Chris Bates, Vastern Timber's Wolf Snell and Dee Jones, the host Mark Steel, and Vastern's Stefan Tyrie.
This category is for the cladding system or product that judges believe is the best on the market. This could be because it is better designed or manufactured or simply deserves to be the de-facto choice for self builders. It could have been anything from a type of timber covering to render, metal or brick slips. Judges were looking for innovation, sustainability and value-for-money.
We are thrilled that Brimstone was selected as the winner. 
Here's a bit about why.
Our Brimstone cladding is made from locally sourced wood. It's beautiful British timber cladding that was created to solve a problem. We wanted to find a way to use local wood, to help fund local woodlands, improve woodland management, reduce timber imports and road miles, and help UK woodlands to thrive. 
Using a clever process called thermal modification, we transform locally grown wood species like ash, poplar and sycamore into stable, long lasting cladding.
The modification process changes the cell structure of the wood using intense heat, and has the added benefit of no nasty chemicals. The resulting timber is a durable, stable and consistent material. It weathers evenly, looks crisp and has a beautiful final look that appeals to modern-day tastes.
We use fast-grown British wood to create Brimstone. The timber is harvested responsibly from well managed UK woodlands, mostly within 100 miles of our sawmills. Brimstone is made from woods that might otherwise become firewood or biomass. Using thermal modification, we transform these 'unwanted' woods into a local alternative to importing timbers from thousands of miles away.
Brimstone launched in 2016, and has gone from strength to strength. We installed our own thermal modification plant at Vastern Timber in 2021, and since then Brimstone has been made entirely in the UK. We're very proud of that too!