Brimstone cladding for first 'net zero' McDonalds
McDonalds chose Brimstone timber cladding for their first 'net zero' restaurant in the UK.
(And we're loving it, sort of…)
McDonald's opens its first-ever net-zero branch – and it's covered in our Brimstone timber cladding!!!! (As well as recycled electrical goods, which also cool) https://t.co/Os65jHh5Ue

— Vastern Timber (@VasternTimberUK) December 10, 2021
"McDonald's and other fast food firms have previously come under fire for their carbon footprints" according to the local BBC report, noting the public pressure on businesses to respond to the climate crisis.
While views on the overall sustainability of multinational fast food chains may vary, at Vastern we think it's encouraging to see a McDonald's restaurant built that meets the net zero carbon buildings framework. That's why we are proud to have supplied the timber cladding for this building.
But all buildings need to meet this standard to address the climate crisis.
A net zero carbon McDonald's has opened in what the company believes is a UK first. https://t.co/DSRIxGvtNt

— BBC News Midlands (@bbcmtd) December 10, 2021
Vastern Timber supplied Brimstone poplar, a locally grown timber cladding, to the 'net zero' McDonalds. The wood was responsibly harvested and is certified 'Grown in Britain.' The clever bit is how we used the 'magic' of thermal modification to make this local timber into a durable cladding.
Thermal modification is a simple but effective process that changes the cell structure of the wood by heating it up to 210°C. This natural, toxin-free method removes moisture, resin and other extractives. The result is a more durable, stable and consistent material that's ideal for cladding – with less risk of bending, warping or decay.
Perhaps most importantly, to make Brimstone we use the UK's own fast-growing hardwood species, increasing the demand for locally grown wood and helping to regenerate the woodlands we know and love.
Making fully informed purchase decisions is one way to help our planet. The Environmental Product Declaration, (EPD) for Brimstone enables customers and contractors to analyse the carbon footprint of this cladding material, and compare it to other options.
From harvesting the tree to finally disposing of the cladding at the end of its useful life, 1m² of Brimstone cladding creates 8 Kg of CO2e. To put that into context, 1m² of brick-faced Precast Concrete Cladding creates 122 kg of CO2e. (CO2e is Carbon dioxide plus other greenhouse gases).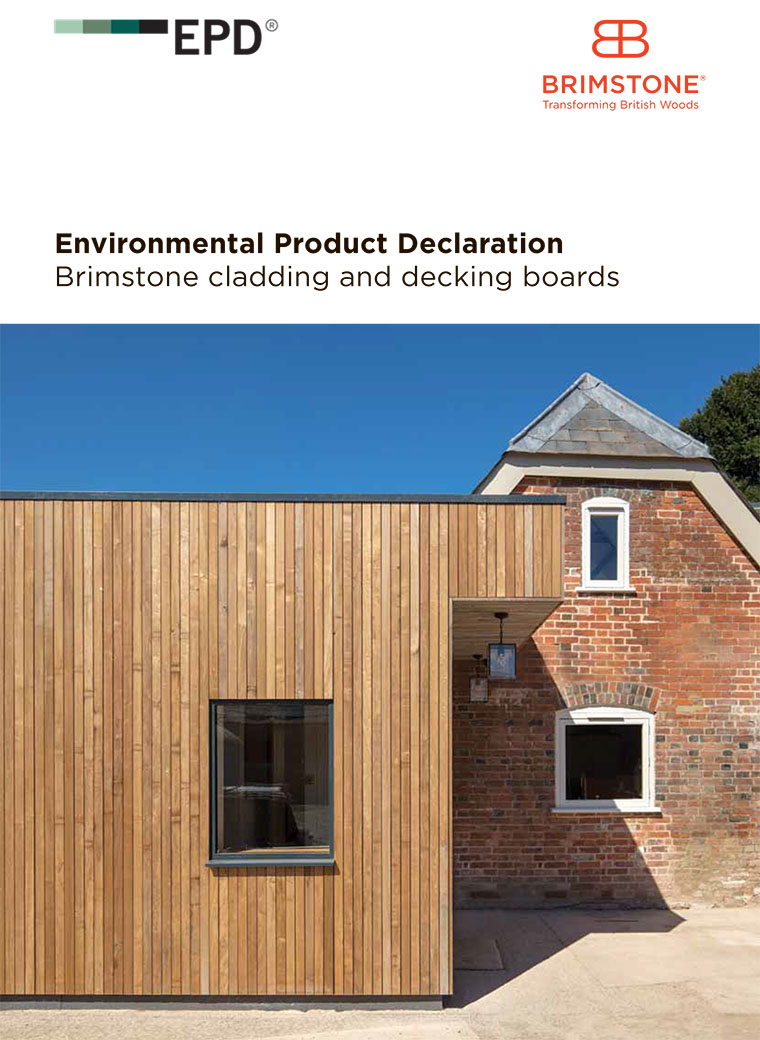 Some find the presentation of a 'net zero' McDonalds problematic, and we acknowledge that there are real concerns around construction and carbon accounting. We also know that not everyone is a fan of McDonalds restaurants – although even the fussiest food snob falls for fast food sometimes.
And we're only a little bit hurt that McDonalds forgot to mention our amazing timber cladding in this promotional film…
The UK's first Net Zero Carbon restaurant ✅

200,000 plastic bottles recycled into kerbstones ✅

Wall signs made from used coffee beans ✅

The new Market Drayton restaurant will act as a blueprint for future restaurants.

Tap to find out more information #PlanforChange

— McDonald's UK (@McDonaldsUK) December 14, 2021
So we added a bit of extra information: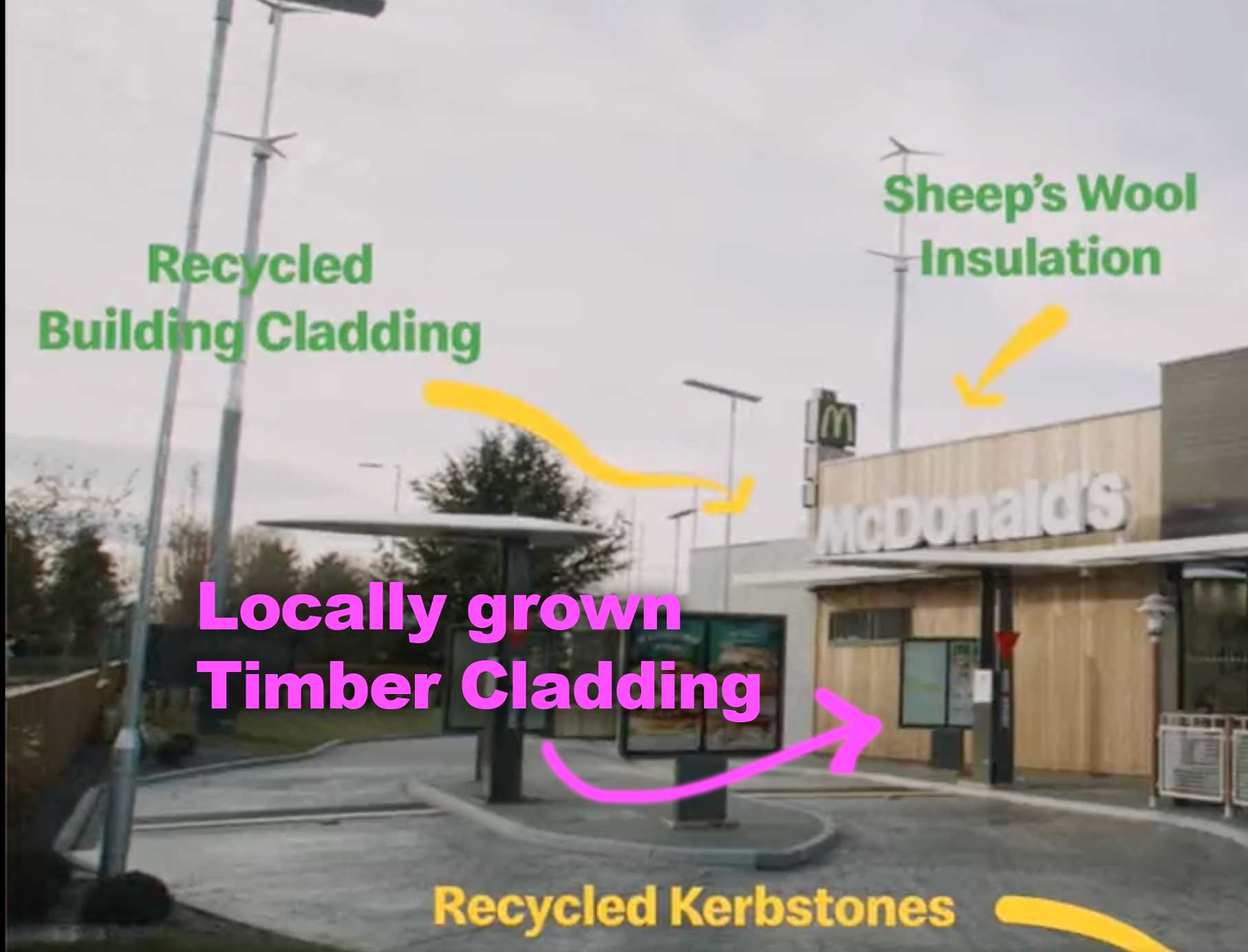 When large corporations like McDonalds build to high environmental standards it's a positive step to prevent the impending climate crisis. In 2020, before the pandemic, McDonalds announced plans to build 60 new restaurants in the UK.
Let's hope that as we 'build back better' post covid, all new restaurants will be built to net zero standards.