Wood Awards shortlist: Orchard House
Overlooking the historic houses of nearby Calne in Wiltshire, Orchard House is located on the site of a former walled kitchen garden and orchard. Accessible only by track from the main road, the house and gardens are reminiscent of times past, unfolding as they do, to reveal an interior world blending and interacting with the surrounding landscape.
A key focus of this project, designed to Level 4 of the Code for Sustainable Homes, was to recreate the character of the original agricultural buildings and this has been achieved through sensitive design and use of materials. All of the Sweet Chestnut and Douglas Fir used in the construction was sourced from within 100 miles of the sawmill owned by Vastern Timber, a company dedicated to sustainability and the promotion of British forests. Sweet Chestnut, in particular, was chosen because it is extremely durable and as such does not need any treatment. It is also more stable than oak and lighter in weight.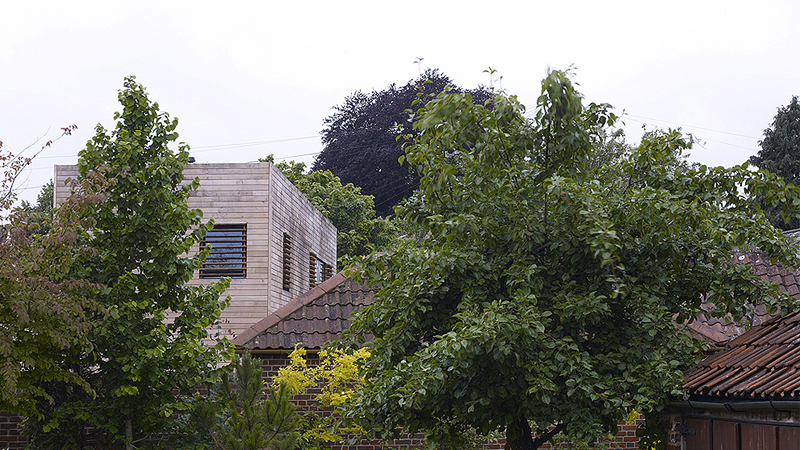 Built on site because of limited access, the timber frame construction has been super insulated with sheep's wool insulation while glulam trusses, also composed on site, support the upper storey which is clad in loosely spaced finger-jointed Sweet Chestnut slats which were supplied machined to a splayed profile (VSP1). This finger jointing process not only reduces waste by increasing the amount of each tree that can be used, but it also creates cladding boards of a more consistent grade with greater stability than solid boards. The slats have been left to weather naturally to a soft grey while the lower storey has been lime rendered.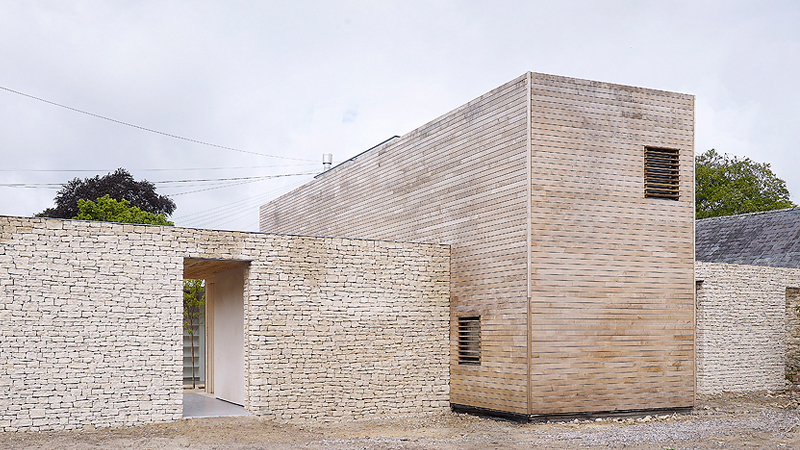 Moving into the house, a simple free-flowing plan wraps around a glazed central courtyard which fills the area with natural light. The versatility of the living space is highlighted by the creative use of interior sliding doors which open and close to create myriad options for the entrance hall, library, master bedroom and main living space, while the upper storey accommodates an office and 2nd bedroom with slatted timber screens.
Tucked away to the east, the kitchen opens out on to the vegetable garden while the studio, to the north of the house, overlooks the orchard garden with timber decked terraces, allowing both the indoor and outdoor space to be used for creative projects.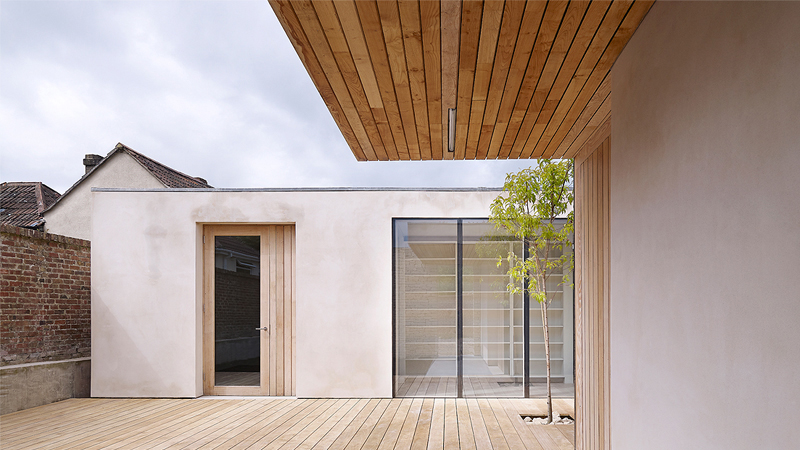 The timber used in the framed glass doors and vent panels is Sweet Chestnut with Douglas Fir being used for the structural columns and cills around the fixed glazing. Finished with white oil and lye, the grain of the timber is clearly expressed and this muted palette of timbers, together with grey ceramic floor tiles and chalk-grey walls provides a calm, peaceful interface to the world beyond.