Wood Awards shortlist: Hooke Park
Located in Hooke Park, a 350-acre working forest owned and operated by the Architectural Association, the 'Big Shed' is a 500 m2 assembly workshop providing a sheltered workspace for new build activities. The workshop was designed by students on the AA's new Design & Make master's course and the team also worked with volunteers from the AA's SummerBuild programme to fabricate and assemble the trusses and cladding cassettes under the guidance of experienced timber framers led by Charley Brentnall.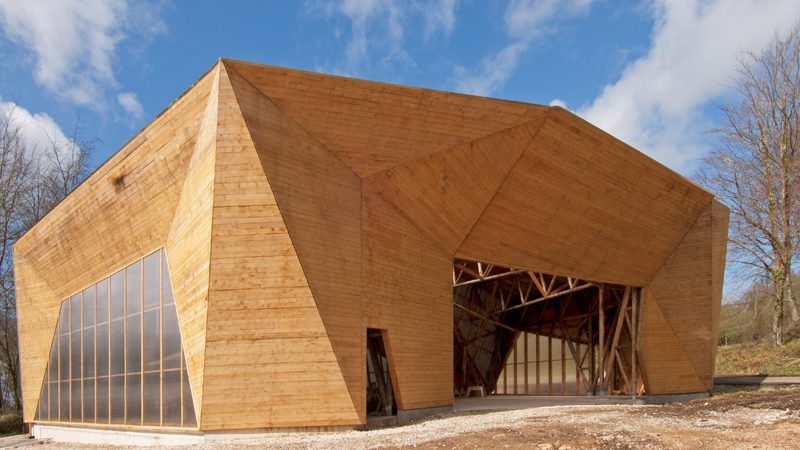 Collaborating with a team from the Department of Mechanical Engineering at the University of Bath, structural engineering consultants Atelier One have pioneered the use of high-capacity screwed connections within large roundwood trusses which removes the need for major engineering processing. It also maximises the use of local resources and minimises reliance on the industrial production of building components.
While the sheer size and complexity of the building structure presented many challenges, there were additional challenges with regard to the timber, given the natural variations in diameter, taper, straightness and quality of each tree trunk. However, the optimal use for each tree was achieved by mapping the engineer's analysis-derived forces on to the structure. Then each of the planar trusses was fabricated and assembled horizontally, before being lifted into position on the building's concrete slab. Similarly, the cladding cassettes were assembled flat and then raised into place.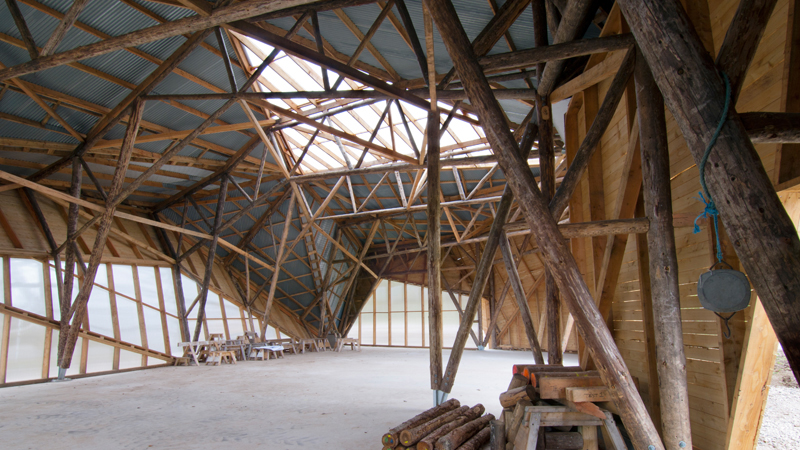 As a durable timber which is currently widely available, sawn larch, supplied by Vastern Timber, was used as intermediary joists and purlins in the primary structure while the wall panels were clad using western red cedar boarding sawn from trees felled at Hooke Park. Currently being used for full-scale prototyping, testing, pre-assembly and other research into architectural systems, the Hooke Park Assembly Workshop will be producing a series of student-designed-and-built campus buildings in the decade to come.
Project Team Information
Building Owner/ Client: Architectural Association
Design Team: AA Design & Make (March course) and Diploma 19
Executive Architect: Mitchell Taylor Workshop
Structural Engineer: Atelier One
Main Contractor/ Builder and Joinery Company: Charley Brentnall
Wood Suppliers: Vastern Timber Co, Euroforest Ltd, Wessex Woodland.