Wiltshire Barn Conversion

Vastern Timber and Wiltshire-based firm of architects and builders, Elkin Architects, have collaborated on many projects over the years, sharing as they do a passion for aesthetics and sustainability so they were obvious partners for this unusual barn conversion in Bremhill, north Wiltshire. The conversion was far from the traditional barn conversions so often seen on television property programmes where beautiful structures are sympathetically restored to create buildings in harmony with the local environment. It was, instead, a project to turn a rather less elegant steel portal barn into two ecologically sustainable holiday apartments whilst retaining the original dimensions and space.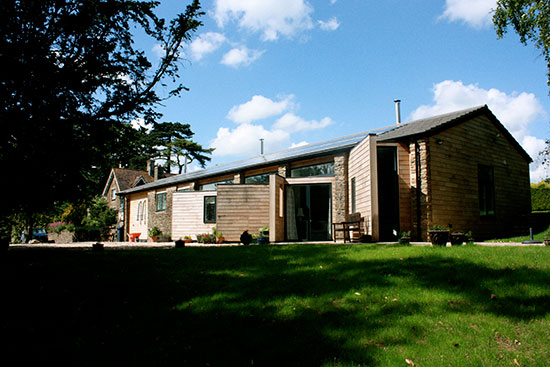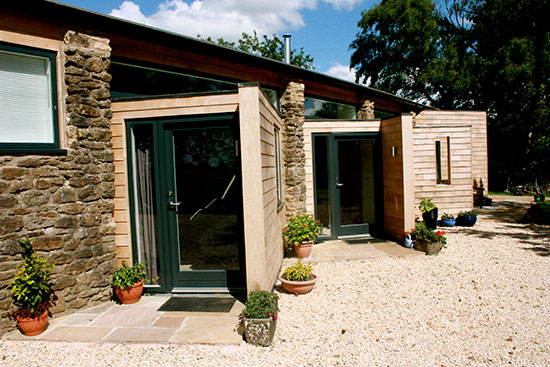 Given the location of the barn, on the edge of a large wood, it was decided to blend the building into its locality through extensive use of stone and timber cladding. In keeping with the ecological nature of the project, the Vastern Timber sawmill, located half a mile from the barn, supplied jointed English oak profiled cladding (20 x 145 mm dimension) sourced from local woodlands.
Ensuring that no wood is wasted, a district biomass system has been installed in the converted barn which heats both the holiday lets and the main house while solar PV cells, on the south facing roof, produce the electricity. In addition, the waste water is treated through a package aerator and reed beds before being released back into the stream.
This project reflects sustainable building in every way from the locally-sourced materials to the renewable energies and anyone interested in the conservation of our environment is sure to have a wonderful stay in this special barn conversion.
Website: www.nicholaselkinsltd.co.uk