A rural cottage extension using Siberian larch
Customer Mick Gemson from Malvern in Worcestershire sent in these pictures of his beautifully-constructed home extension. It sits at the side of an end-terrace 'farm labourer's cottage', and uses Siberian larch cladding supplied by Vastern Timber. Siberian larch is ideal for this kind of project. Its high resin content makes it one of the most durable softwoods in the world – and the very slow rate of growth of the trees means that it is extremely dense and strong, making it a good cheaper alternative to Canadian western cedar.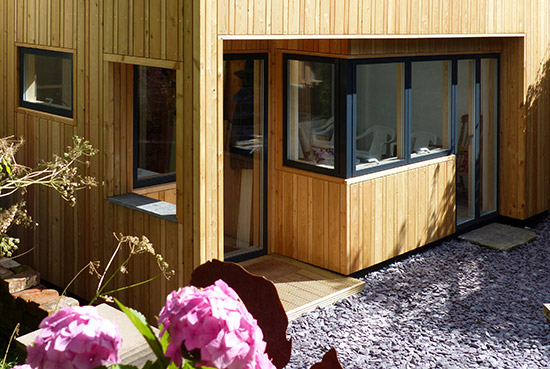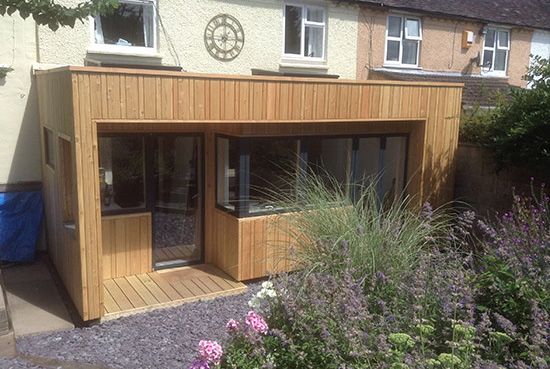 Mick has used our 'Grade B' Siberian larch for this cottage extension. The Grade B is perfect for cladding projects requiring a natural or rustic look because it contains frequent knots (whereas the Grade A, which has fewer knots, is better for a more contemporary look). The wood has a golden yellow colour which over time will weather to a silver-grey.
He has also cleverly mixed the board widths in his construction to break up the regularity of the building, creating a characterful, naturalistic feel in sympathy with the rural surroundings. Mick tells us that the building isn't quite finished – there's still a 'green roof' to grow on top and plenty to do on the interior – but said that he was:
"Greatly impressed by the sheer quality of all that you supplied. The 45 x 145 lengths were perfectly true and machined beautifully. All in all, very pleased."
He also added that his timber was brought to him by "possibly the cheeriest delivery driver I have ever encountered!"
Vastern Timber's Siberian larch cladding is sourced from reputable sawmills processing larch logs from well managed forests in northern Europe, and where possible is sourced with independent certification. Siberian larch is supplied in two grades and in 20x145mm, 20x70mm and 45x145mm dimensions. You can read more about our Siberian larch cladding here.