May 30, 2019
Vastern Timber to exhibit at Build it Live Bicester on June 8-9th
Vastern Timber will be at Build it Live in Bicester showcasing their range of British grown exterior timber cladding. We are looking forward to meeting home builders and self-builders at the show, where we will showcase our range of British grown timber cladding.
Vastern Timber's range includes British cedar, larch, oak, sweet chestnut and the innovative Brimstone range of thermally modified British hardwoods. The stand will include samples of various cladding profiles as well as examples of horizontal and vertical options.
Build It Live is "the UK's most practical regional home building & self-build exhibition", and takes place at Bicester Heritage Event Centre.  Visitors can learn more about cladding buildings with British timber, and find out how Vastern Timber can help you choose the best materials for your project.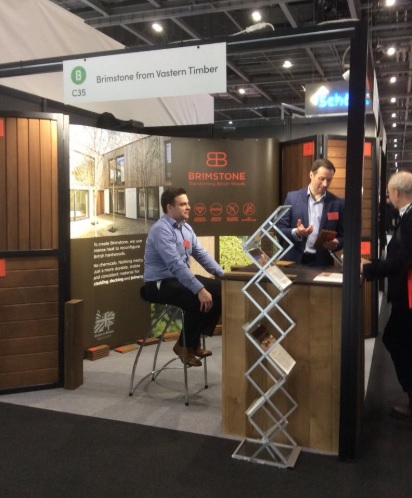 Stefan and Tom at the Vastern Timber stand at a recent building show
Vastern Timber are one of the UK's leading manufacturers of British grown timber cladding. We produce cladding in our Wiltshire sawmills, using locally grown cedar, larch, oak, and sweet chestnut. Our innovative Brimstone cladding of thermally modified British hardwood makes a great alternative to imported hardwoods, and is highly durable.
Most of our timber is sourced within 100 miles of our sawmills, and we're proud to support our British woodlands by creating valuable products from homegrown timber.
And there's also the chance to take on our team at the Brimstone Jenga challenge, but we warn you that Stefan is a tough competitor…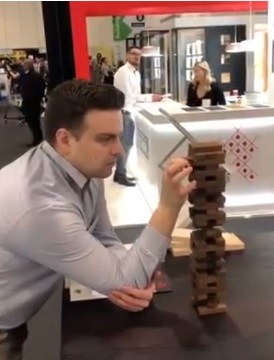 Stefan has a steady hand on the Brimstone Jenga tower
For more information about the show and to book tickets, click here.
We look forward to seeing you at the show!