May 10, 2017
Vastern Timber launches a new CPD – Selecting the right timber cladding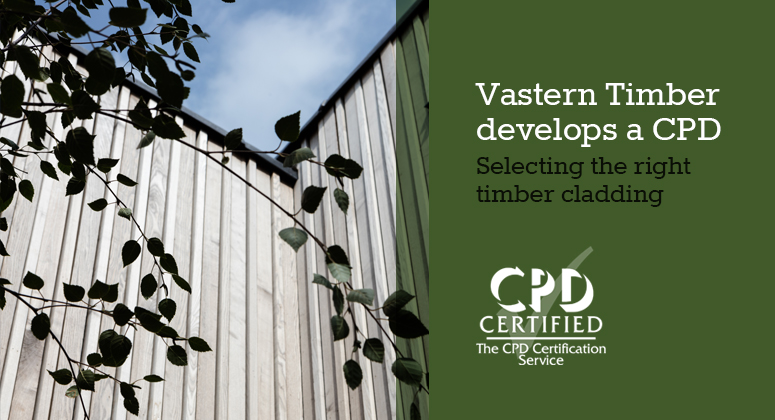 Vastern Timber has developed a CPD to help architects and other specifiers address the resurgence in timber cladding. Entitled 'Selecting the Right Timber Cladding' the presentation explains all of the options and factors that influence timber cladding installation and will help to ensure that cladding used in their designs looks good and lasts.
The CPD presentation explains the different types of timber cladding available, including popular choices such as sweet chestnut and cedar, through to modern high performance thermally modified options like Vastern Timber's 'Brimstone'. It also discusses in depth the environmental and design factors that affect cladding, such as location and weathering, as well as the different characteristics of timber species and the types of cut and preparations available.
"Cladding has enjoyed a resurgence in recent years," explains Tom Barnes of Vastern Timber. "However, while a good cladding installation can be remarkably effective, there are range of factors that can result in a cladding installation failing or losing its aesthetic very quickly.
"There are a lot of factors to consider, and architects need to know how these factors and influencers collaborate. Once they have this knowledge they are better informed to make the right choices about species and how to design cladding to suit the individual building and its environment.
"Our CPD presentation is comprehensive and as well as going into detail about species also looks at durability, standards, and the advantages of specifying British products and products that use timber sourced from domestic forests and woodland. This is an increasingly important consideration, and one which we believe will be even more important in a post-Brexit Britain."
Amongst the cladding options discussed in the CPD presentation is Brimstone thermally modified timber, which originated as a collaborative project between Grown In Britain, BRE, Timber Strategies, Vastern Timber and other commercial partners. The Brimstone range is ideal for cladding, decking, external joinery and furniture, and includes thermally modified British hardwoods including ash, poplar and sycamore.
Thermally modified timber is 60 – 80% more stable than non-modified timbers, meaning significantly less expansion and contraction when faced with changes in ambient temperature and humidity. This makes thermally modified timber a superior solution for a range of exterior uses.
For more information or to book a CPD presentation contact us here.