November 17, 2021
What is biophilic design and how can it help you feel better?
Want to feel better, recover faster, concentrate for longer and be more productive? Then, here's how.
No, it's not the latest fad diet or the newest exercise craze. It's much simpler than that. Spend more time in nature.
During my film series 'Wood For The Trees,' I spoke to Suzi Martineau, from the Tree Sisters Charity, about the amazing benefits of spending time amongst trees.
Suzi explained that not only do our woodlands clean the air and pump out oxygen, they also produce aerosols that deliver a range of health benefits including reducing stress.
Of course, we all want to enjoy these benefits, but in our busy, urban lives, getting out in nature isn't always easy. This is where biophilic design comes into play.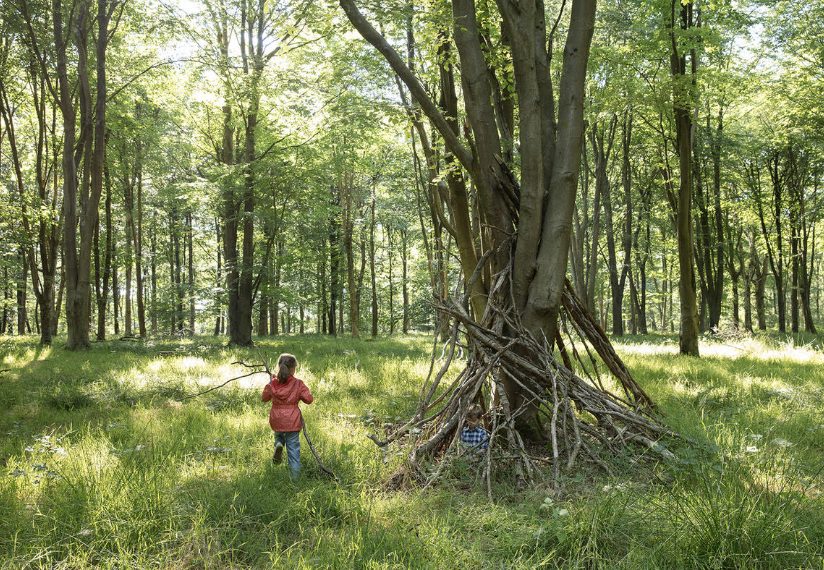 If you can't go out, bring nature in
Today, it's estimated that we spend, on average, 90% of our lives inside buildings – a lot of this time being at work.
So, how can we make the most of nature if we're spending so much time indoors? The answer is this: if you can't go out to nature, bring it inside to you.
That's what Biophilic design is all about.
How does Biophilic design work?
Put simply, 'Biophilic design' is the process of designing nature into buildings. And it's becoming increasingly popular as evidence of its benefits are mounting up.
This type of design promotes health and wellbeing by incorporating as much nature and as many natural materials into your building as possible.
Plants undoubtedly play their part, but biophilic design focuses more on the materials and design of spaces. It's about using natural materials, textures and coatings that mimic nature. Materials that stimulate the same sense of wellbeing that we get when we're strolling in the woods.
Supporting the Biophilic Office project
Recently, we donated English ash timber boards to the 'Biophilic Office', a research project designed by Oliver Heath for the building experts at BRE.
The live-edge ash boards were used to create a wall of rustic internal cladding and were one of many products included in this showcase of biophilic design for the workplace. We think the results look wonderful.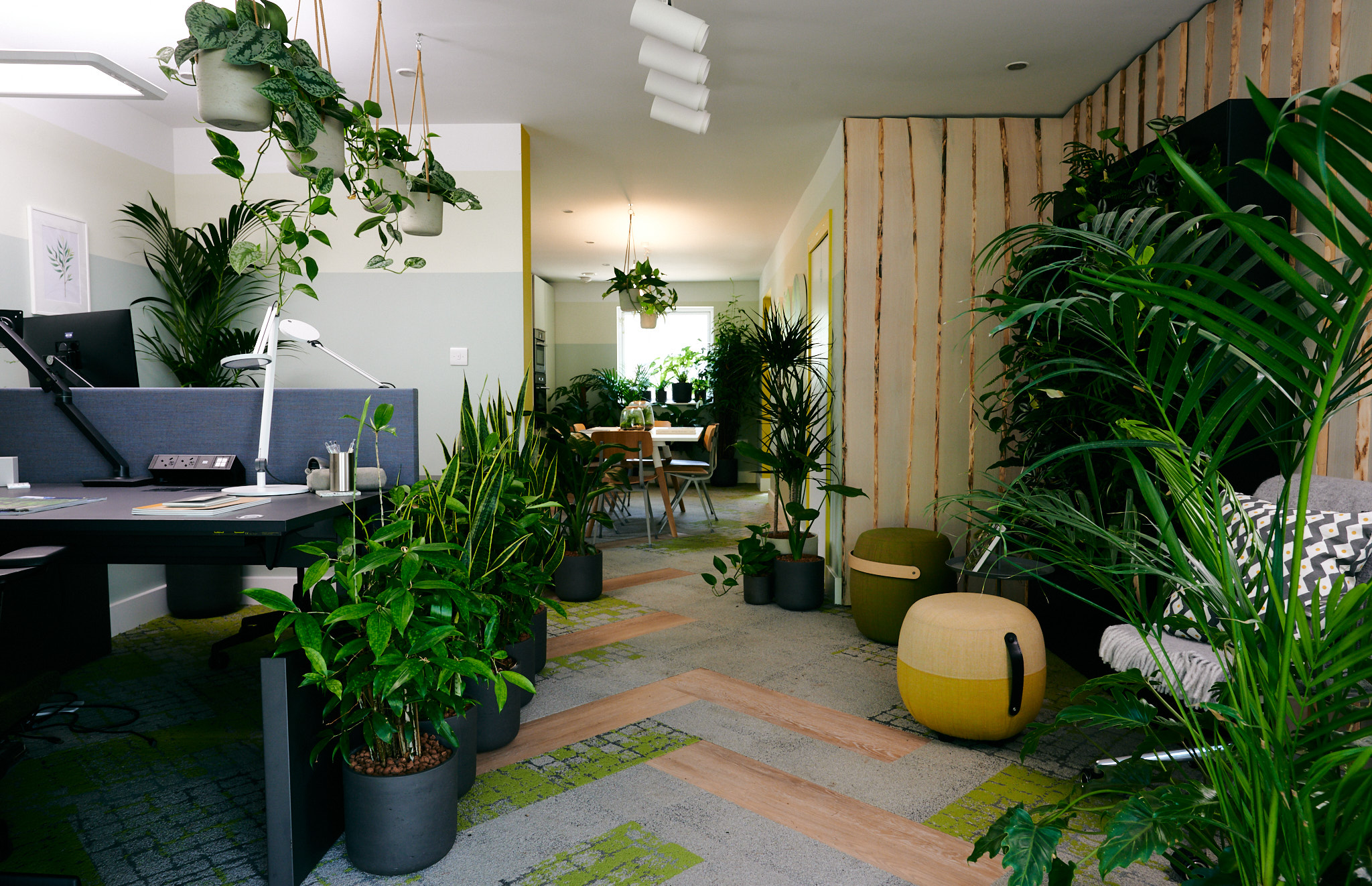 Does it really work?
Of course, there's no doubt natural materials look and feel beautiful in a working environment. But do they really work from a wellbeing point of view?
According to Oliver Heath there have been numerous studies over the last 35 years on the benefits of biophilic design. Here are just a few of the highlights:
Office design: 8% increase in wellbeing and a 13% increase in creativity 

Education: 20 – 25% improvements in test results and reduced ADHD

Healthcare: 22% reduced pain medication and 8.5% decrease in recovery times
With these highlights in mind, it's no surprise that wood and other natural materials are now being used in new schools, recovery wards and offices. In fact, buildings don't have to be new to benefit from biophilic design. Refurbs and retrofits are also a perfect opportunity to introduce some nature.

Helping Forest to Home with a biophilic office make-over
Take Will and Sam, founders of Forest to Home, a biophilic focused furniture-making company. The interiors they build for their clients are full of locally-grown wood, often with the live edges on show, draped in luscious green plants. 
They recently came to us for timber, as they were creating a beautiful and healthy office space for luxury travel brand, Jacada Travel. This refurbished space is awash with greenery and is decked out with simply designed ash furniture to create a nature-like environment in an urban office. You can read the full case study here.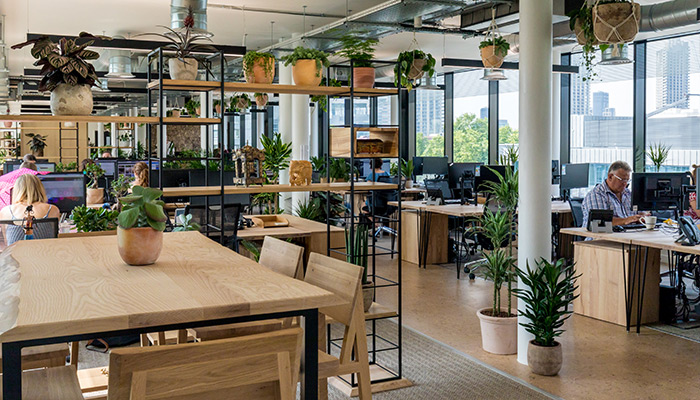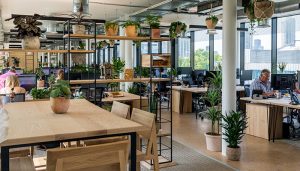 How to create a more biophilic space
If you've been inspired by the designs and wellbeing benefits we've mentioned, you may want to apply some of these biophilic design techniques to your own spaces.
Here are a few ways you can get started:
Add a simple pot plant onto your desk. It's a great way to start.
See if you can incorporate more plants, natural light and fresh air into your working area.
If you're giving your space a makeover, consider using natural materials like wood and stone, as well as natural colours and patterns.
Keep unhealthy materials and chemicals out if you can. Check your paint, carpet, furnishings and cleaning products.
And finally, as well as bringing nature to you, try going out into nature once a day if you can. Even if it's just for 10 minutes, we guarantee you'll feel better for it.
To find out more about biophilic design, please see the links below. Or if you're looking for natural wood materials to support your project, please get in touch. We'd love to help.
More information
Oliver Heath Design
www.oliverheath.com
Biophilic Office Project
www.bregroup.com/services/research/the-biophilic-office
Red list of harmful chemicals and compounds
http://www.living-future.org/declare/declare-about/red-list
Forest To Home
www.foresttohome.com