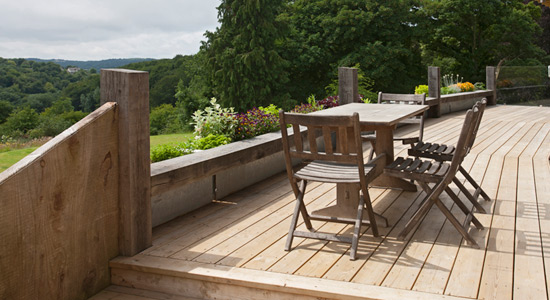 Grade A Siberian larch | VDEC2
Siberian larch is very resinous and extremely hard wearing, making it one of the toughest and most durable softwoods in the world. For these reasons the timber makes excellent decking for both residential and commercial projects. Siberian larch has long been a very popular construction material in Europe but only recently has it found such popularity in the UK.
Not to be confused with the larch grown in Western Europe, which is pink in colour with dark brown knots, Siberian larch is ideal for those designing on a budget but wanting a superior quality decking as it is approximately half the price of oak and performs almost as well. Although Siberian larch is similar in colour and appearance to pine, it is far superior in all aspects of performance and can be used externally without any chemical treatment.
Technical Specification
Produced to comply with the harmonised standard for construction products regulation BSEN14915:2013
Trade Name
Siberian larch
Base timber
Siberian larch
Species
Larix siberica
Process
None
Origin
Legal and well-managed forests in Northern Russia
Intended use
External decking
Other uses
Cladding, joinery, structural timbers
Appearance
The wood is a golden yellow colour with a strong grain pattern, similar to pine. Depending on the grade, the boards may include some, or many, dark black knots.
Weathering
As the boards weather, the colour will change to a silver-grey. Larch is quite consistent and is not reactive, and as such, will weather relatively evenly. Northerly elevations may weather to a darker grey than those facing South.
Profiles
Decking profiles

Dimensions

| | | |
| --- | --- | --- |
| Thickness | Overall width | Profiles available |
| 21mm | 95mm | VDEC2, VDEC3 |
| 21mm | 140mm | VDEC1, VDEC2 |
| 27mm | 145mm | VDEC4 |

Lengths
Random. 1.8 – 4.5mt+
Moisture content
Approx 16 – 18%
Natural durability (EN350-2)
Durable Class 3
Insect attack
Resistant
Desired service life (BS8417)
Frequently wet. 15 yrs
Treatability class
Resistant
Movement class
Large (A 140mm board can vary by 5mm through the year)
Resistance to impact*
High
Resistance to fixing
Medium
Mean Density
570 – 650 kg/M3 when dry
When to fix
Ideally Autumn / winter months.
Grading
Grade B (Known in the trade as 4ths or Sawfalling). To knotty to conform to any standard.

Grade A (Confusingly known in the trade as Unsorted) BS1186-3 1990 Class 2. EN942:2007. J30. CE grade A. Clean with a few sound knots up to 30mm.

Working properties
Good workability. Takes fixings satisfactorily.
Extractives
Siberian larch contains resin rather than oil or tannin. The resin is fixed by kilning and does not tend to bleed. The resin is not reactive.
Emission of formaldehyde (EN14915)
E1 (Not significant)
Reaction to fire (EN14915)
Euroclass F (Untested). D-s2, d0
Fire treatment
Possible by impregnation
CE compliant
Yes
While the utmost care has been taken to provide accurate information, Vastern Timber shall not be held responsible for any consequences arising from any errors or omissions on this website nor for any damages resulting from the use of the information.