June 8, 2023
Ash from Bathurst estate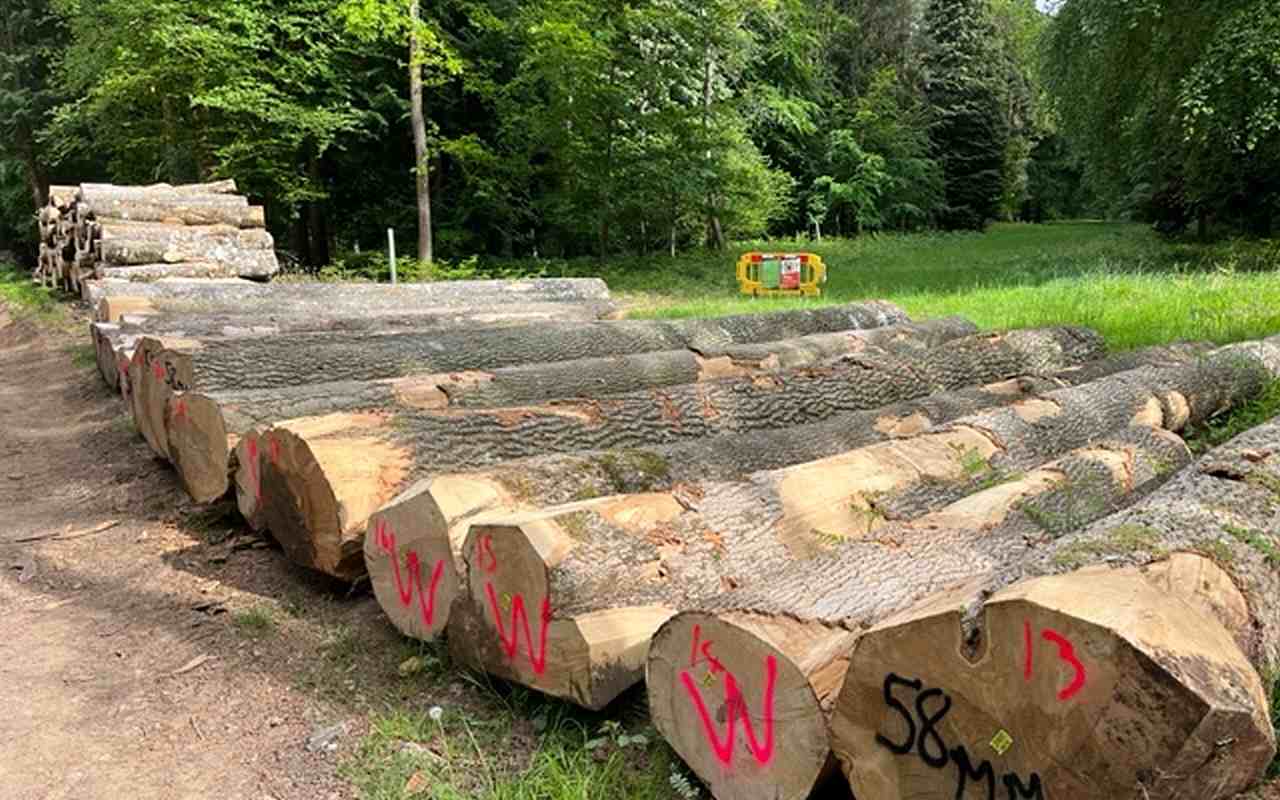 Where's this wood from?
This amazing ash is from the Bathurst estate, in Gloucestershire. 
The Bathurst estate is one of the country's oldest privately owned parks. It was originally laid out in the 1700s as a deer park. In the First World War it became a military camp. It's now open to the public and contains a number of woodlands that have been managed to produce timber for many generations.
The quality of the timber shows that woodland management has been very good on this estate. 
How far is Bathurst estate from the sawmill?
The Bathurst estate is only 15 miles from our sawmill in Wootton Bassett.
What is the timber?
This is ash. It's a tough and attractive hardwood. Our timber buyer Rupert told us that they had a good look at the age of this ash. Some of it was planted just before the first world war, and some just after the second world war. 
What will it be used for?
We will use most of this ash to make Brimstone cladding. We use thermal modification to transform this ash into a durable and attractive timber cladding. We will cut the larger of the logs into thicker planks suitable for table tops, chair seats and general joinery.
What makes this wood special?
The high standards of woodland management on the Bathurst estate have resulted in some of the tallest, straightest ash trees we've seen in a while. And while the areas that the ash has come from are impacted by ash dieback, we are glad to be able to put this timber to good use rather than see it chopped up into firewood. 
When can I get my hands on some?
This particular ash will be available within the next 6-12 months. And we already have plenty of our award winning thermally modified Brimstone ash and kiln dried British ash in stock and ready for purchase. 
Can I find out more about Bathurst?
A couple of years ago we visited the Bathurst estate, where centuries of exemplary woodland management have resulted in some of the tallest, straightest trees we've ever seen. In 'Wood for the Trees' part 9, our MD Tom Barnes spoke to Graham Taylor, director of a leading forestry consultancy, about woodland management at this beautiful estate. Watch the film below.
Can I see more of this amazing ash?
Check out our gallery of images below.