December 14, 2020
Tom Barnes talks to Parliamentary Group
"You wouldn't talk about agriculture without talking about food production but I hear continuously about tree planting with absolutely no mention of management and wood production."
Tom was invited to speak at a Parliamentary meeting on 10 December, to discuss "a co-ordinated UK-wide approach to tree planting, and planting targets, recognising that the UK needs and benefits from all types of woodland, and that wood products are crucial to a low-carbon future; and ensuring new and existing woodland is sustainably managed to achieve its potential."
The All Party Parliamentary Group (APPG) includes members of the House of Commons and House of Lords from different political parties, and is focused on practical steps to push up tree-planting rates in England and Wales. 
Tom said:
"I'm the managing director of Vastern Timber, I'm a fourth generation owner of this business, which has been processing hardwoods for over a hundred years. We sawmill and process a range of British grown hardwoods and soft woods including ash, oak, sycamore, chestnut, cedar, and larch. Most of that goes into the construction and renovation sector. Recently we launched a product called Brimstone which is the first thermally modified product exclusively from underused British grown hardwoods. Over 90 percent of what we produce and sell comes from local woodlands which makes us a rarity.
The infrastructure remaining to process British hardwoods is tiny and once it's gone it's unlikely to return, and without the processing chain hardwoods grown in the UK, and all of these new trees we're going to plant, will have no value beyond biomass. Only around seven percent of the hardwoods that we use in the uk come from the uk while about 34% of all sawn timber is actually grown here. We're importing about seven million cubic meters a year of sawn timber.
Now I'm not by any means making a case that importing timber is inherently bad – but I am making the case that there are big benefits on offer if we can tip the balance a little way the other towards homegrown timber and and grow more and use more of what we what we have here.
There are big benefits on offer if we can grow and use more of our own timber.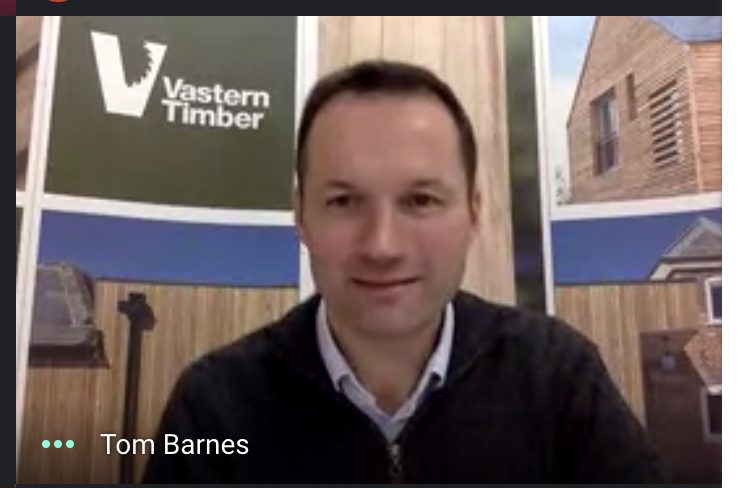 Using more native wood puts more money into our woodlands and rural economy, it funds more planting and encourages management. It funds jobs in forestry and jobs like mine in the supply chain.
Using more native wood shortens supply chains, reducing negative impacts and improving resilience of supply. Almost every Builder's merchant ran out of building timbers during the early stages of the pandemic. Using more native wood allows the UK to claim the benefit of carbon sequestration under Paris Climate agreement. Using more native wood ensures that the timber we use is harvested to high sustainability standards and that we are not offshoring our responsibilities to countries with less stringent regulations.
Most importantly though using more native wood will substitute other materials and fuels that emit large amounts of fossil based CO2 and other pollutants. Wood is carbon negative and at worst can treated as carbon neutral. Replacing materials such as concrete and steel with wood will reduce the impact of building.
How do we achieve these benefits?  Plant more. Manage more and use more.
To succeed we have to break down political and cultural barriers.  In the same way agriculture and food production are intrinsically connected, so tree planting, management and wood production should be.
You wouldn't talk about agriculture without talking about food production.
But I do hear and read continuously about tree planting with absolutely no mention of management and wood production. It drives me a little bit potty.
Recently, Central Government, the Environment, Food and Rural Affairs Committee, DEFRA and a whole year of BBC radio 4 PM programme are focused on trees – with no mention of timber.
Tree planting is step one. Step two is management and step three is harvesting.
A farmer wouldn't plant any other crop and consider his or her job done.
Without step two and three, tree planting will not significantly contribute to the CO2 reduction targets that we have signed up to. In fact, it is unlikely to produce any kind of meaningful woodland. Over stocked, stunted, deer chewed, squirrel stripped trees achieve nothing and in many cases may not even survive to middle age.
Oliver Rackham wrote 'Exhorting people to plant trees to sequester carbon dioxide is like telling them to drink more to hold down rising sea levels"
Claiming that planting trees alone will solve our climate problem is nonsense and those in positions of trust should stop peddling such misinformation. Trees can do many great things but they cannot absorb our greenhouse gas problems away.
What trees can do is reduce greenhouse gas emissions by producing wood that replaces building materials that are responsible for high levels of emissions.
There is potentially a much bigger win here that is not being appreciated. Forest based studies have forecast that over a 100 year cycle the overall carbon benefit of a well-managed woodland that produces timber and wood fuel is three times the benefit of sequestration alone. Three times!
If you focus solely on step one you miss out on tripling the potential of the woodland to reduce CO2 emissions. You want the triple whammy! Then start talking about step 2 and 3, management and harvesting.
From my perspective management of woodlands is essential. Good quality trees do not grow by accident. I have very few markets for poor quality wood from damaged, distorted low-grade trees.
Woods and trees must be managed well to produce useable timber.
Also consider this – poor quality trees end up in short term biomass such as fuel and animal bedding. Any sequestered carbon is re-emitted within a matter of days. High quality managed trees produce timber that ends up in long-term products such as construction timber, flooring, cladding and joinery. This wood will remain in situ, locking up the carbon for 50 years or more."
After Tom spoke, Confor's David Lee reinforced these points which were part of the Confor manifesto last year.
1. Plant More Trees,
2, Manage Woodland Better, and
3, Use more homegrown timber.
He said that the three have to go together.
You can watch the entire session on Youtube:
The All Party Parliamentary Group on Tree Planting and Forestry will meet again in the new year, and hopefully take some of these ideas forward into policy-making and legislation.
Confor aims to support sustainable forestry and wood-using businesses. Find out more about this All Party Parliamentary Group meeting on the Confor website. https://www.confor.org.uk/news/latest-news/parliamentary-group-shines-light-on-government-planting-targets-one-year-on-from-general-election/
Tom Barnes is MD of Vastern Timber, a 4th generation family firm specialising in transforming British grown timber. Find out more about Tom's interest in local wood and woodlands on his blog. https://www.tombarnesblog.com/see-the-wood-for-the-trees-englands-woodland-is-in-decline-and-we-must-act-now/
Image credit: Westminster by Harry Lawford: https://flic.kr/p/5HqwRU