January 21, 2021
Future Trees Trust Trials funded by Vastern Timber
We are proud to support the work of the Future Trees Trust. The FTT is the only UK charity dedicated to improving broadleaved trees by selective breeding. Selective breeding can produce healthier plants and better harvests, and we're supporting a sycamore trial looking to find the best seeds for the future. We asked Tim Rowland, CEO of Future Trees Trust, to tell us more about the Sycamore Progeny Trial that Vastern Timber will be funding over the next three years. 
"In forestry, it's important to plant the right tree in the right location. Or, if you have a location into which you want to plant trees, it's important to plant the right trees there – ones that will fulfil your planting objectives as effectively, quickly and efficiently as possible.
If timber is your planting objective – and there's a compelling case that in future we'll need much more home-grown timber – you'll want to plant trees with the right genetic traits. To get the best timber you must ensure your trees grow tall, straight-stemmed and with light branching, and for the best chance of that, you'll need to trial and select seed for the desirable genetically inherited traits.
At Future Trees Trust, we undertake trials to determine which 'families' of sycamore trees – trees with parents from across a wide geographic area – grow best in a number of different climatic conditions. We have identified superior sycamores – called 'plus' trees – with all the characteristics of excellent timber-producing trees. 
We now need to take seed from these trees, grow them into saplings and plant them into progeny trials at various locations. A progeny trial tests which families of trees grow best at which locations. Once we have collected and assessed trial data (growth, height, diameter, form) over several years, we can determine the genetic gains that each family is making – a measure of how the genetics of each 'family' are interacting with the local conditions to increase the desired traits.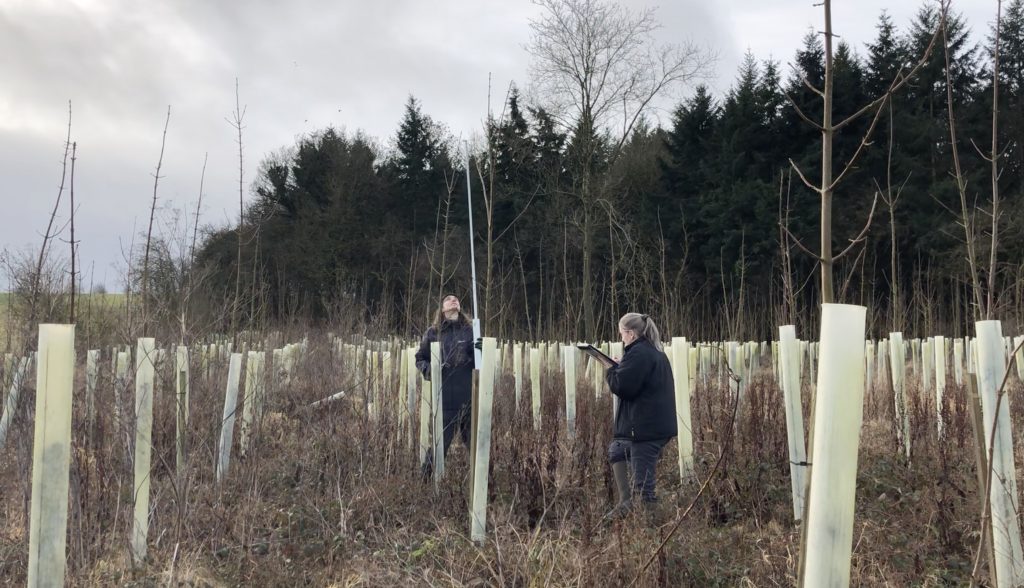 At a progeny trial, Future Trees Trust researcher Dr Joe Beesley measures sycamore saplings, with Head of Research, Dr Jo Clark.
We will remove the lesser-performing trees from each site and eventually, when only the 'best' trees are left, the trial can become a seed orchard, providing excellent quality sycamore seed to anyone that wants to plant trees. These seedlings are likely to produce up to 20% more timber than trees grown from conventional planting stock.   
Future Trees Trust are dedicated to improving broadleaved trees to increase their timber yield, carbon sequestration and disease resilience. By ensuring that future trees will survive longer and produce more high quality hardwood timber that can be used in buildings, furniture, tools and now even satellites to lock up carbon for centuries, more people will be inclined to plant trees knowing that they are economically, environmentally and socially more viable than the currently available planting stock."
Tim Rowland, CEO of Future Trees Trust
Find out more about the Future Trees Trust
Find out more about Vastern Timber and why we specialise in locally grown timber.