English oak flooring: Tiger brown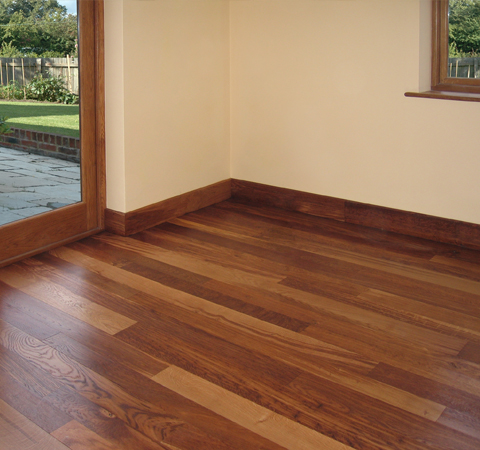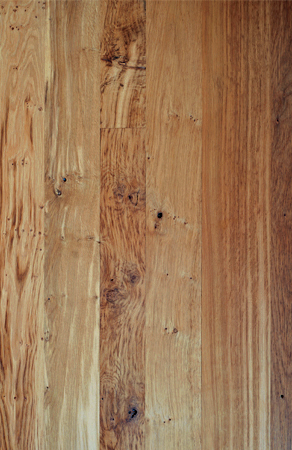 English oak flooring. Tiger brown 150 / 175 / 200mm 
English oak flooring. Tiger brown 100 / 125 / 150mm 
| | |
| --- | --- |
| Ideal for: | An area with lots of natural light. |
| Not ideal for: | Those who want a pale coloured floor. |
Tiger brown oak flooring is a beautiful version of our Character oak with streaks of chocolate brown and shimmering gold. It is the darkest of all our hardwood floors and is particularly suited to rooms with plenty of natural light.
Brown oak is unique to British forests and gets its colour from a fungus that grows around the roots of the tree causing the heart wood to change colour. The 'tiger stripes' appear as the brown streaks up from the roots of the tree towards the crown.
Tiger brown English oak flooring is rarely seen so will undoubtedly receive many admiring comments.
The boards are supplied unfinished and will require sanding and sealing before use. A degree of movement should be expected after fitting and throughout the year as the ambient temperature and humidity vary.
Technical Specification
Provenance
Legal and well managed forests in England
Dimensions

| | | | |
| --- | --- | --- | --- |
| Face widths | Thickness | Profile | Length |
| 100 / 125 / 150mm | 20mm | T&G | 1.2 – 3.0mt |
| 150 / 175 / 200mm | 20mm | T&G | 1.2 – 3.0mt |

Profiles

Available in two mixed width specifications
Moisture content
10 – 12 %
Surface finish
Supplied planed without surface treatment
Shrinkage
0 – 2%. Dependent on ambient humidity
Weight
650 Kg / m3 when air dried
Modulus of elasticity
E = 13,000 N/mm2
Resistance to impact
Medium / High
Fixing options

Face widths
Secret
nail
Glue
Cut nails
Srews
Floating
100 / 125 / 150mm
150 / 175 / 200mm

Subfloor options

Face widths
Plywood /
chipboard
Sealed
concrete
Battens

Joists
100 / 125 / 150mm
150 / 175 / 200mm

We do not recommend that our solid hardwood flooring is laid over underfloor heating

Further information
Trada Technology. www.trada.co.uk
While the utmost care has been taken to provide accurate information, Vastern Timber shall not be held responsible for any consequences arising from any errors or omissions on this website nor for any damages resulting from the use of the information.