June 8, 2019
Best Grade British larch cladding launched by Vastern Timber
This spring, Vastern Timber proudly launches Grade A British Larch. It's the latest addition to the popular range of British timber cladding from Vastern Timber, the sawmill that specialises in homegrown wood.  British larch cladding has a lighter environmental impact and lower cost than many alternatives, and a beautiful tendency to naturally silver.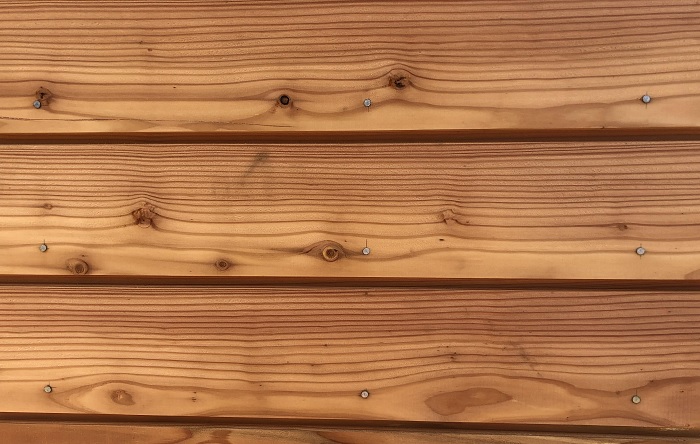 "We're proud to offer the highest quality home-grown, locally produced, British larch,  which we believe is an excellent alternative to imported Siberian larch and Canadian cedar cladding. We've specially selected the very best native grown British larch logs for the job." said Tom Barnes, managing director of  Vastern Timber.
"The language of timber grading can be confusing, so we're using a simple system to grade this natural product. And our 'Grade A' British larch is the best of the best"
"Many people associate British larch with knotty timber, and that is for the most part correct, but at Vastern Timber we source, select and process the very highest quality larch logs from  native woodlands where the larch grows big and clean. Additionally we only use the 'butt' end of the tree which contains the fewest knots. We believe this grade of British larch to be unique in the industry."
Knots in wood are simply the parts where the branches were formed. Providing the knots are not too large they don't affect the strength or durability of the product, and in fact are some of the stronger parts of the wood. Knotty cladding will last just as long as cleaner versions." said Tom. However we understand that some customers prefer the cleaner appearance of less knotty wood, and that's why we've created this high grade of British larch.
"Our 'Grade A' British larch is the best of the best"
We can now offer a home-grown alternative to Grade A Siberian larch (which is known in the trade as Unsorted, – somewhat confusingly) and a relatively knot free British timber at a cheaper price point than imported Canadian cedar.
Vastern Timber will continue offering the very popular fresh sawn larch waney-edge and feather-edge products for those who are seeking a more rustic appearance at a more cost effective price.
Grown in Britain
All of Vastern Timber's British larch cladding is sourced locally from well managed forests.
Tom said "Most of our larch logs originate from private woodlands within 100 miles of our sawmill, and we firmly believe that local sourcing helps support local woodlands."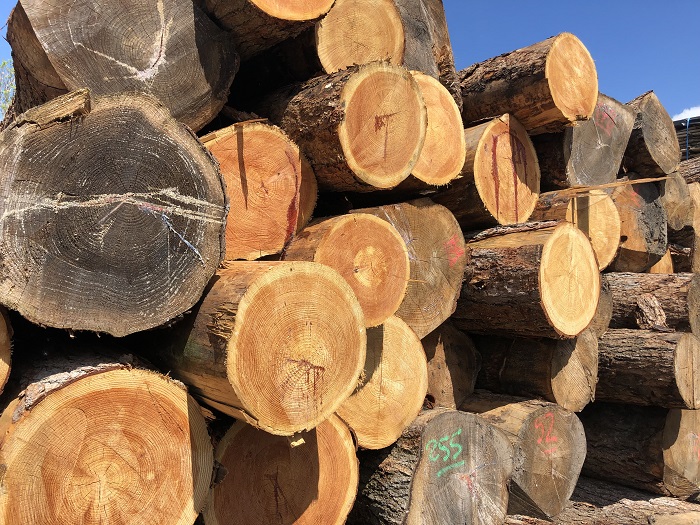 Our most recent batch of larch logs originates from Savernake forest, an ancient woodland near Marlborough, that is open to the public and managed by the Forestry Commission.
"We believe this grade of British larch to be unique in the industry."
Tom is very fond of the British larch, and said "I think British larch (Larix decidua) has an appearance close to Douglas Fir, which in my opinion is more attractive than Siberian larch (Larix siberica), which looks similar to pine. We also take extra time to produce this cladding, allowing the larch timbers to dry slowly and naturally. It's worth it because we know that the end result is more stable when compared to the Siberian larch."
With the launch of our specially selected, Grade A British Larch we hope to encourage more builders and designers to use the best homegrown materials. With a lighter environmental impact than many imported alternatives, and a beautiful tendency to naturally silver, we hope that our new, Grade A British larch will prove a popular choice for the future.
To find out more about British larch, or order a sample, please contact our friendly team.
About Vastern Timber
Vastern Timber is one of the largest British hardwood sawmills in the country. We specialise in cutting and manufacturing native grown timbers for timber cladding, oak beams and hardwood flooring. Our range includes English oak, sweet chestnut, ash, sycamore, elm,  larch and cedar.