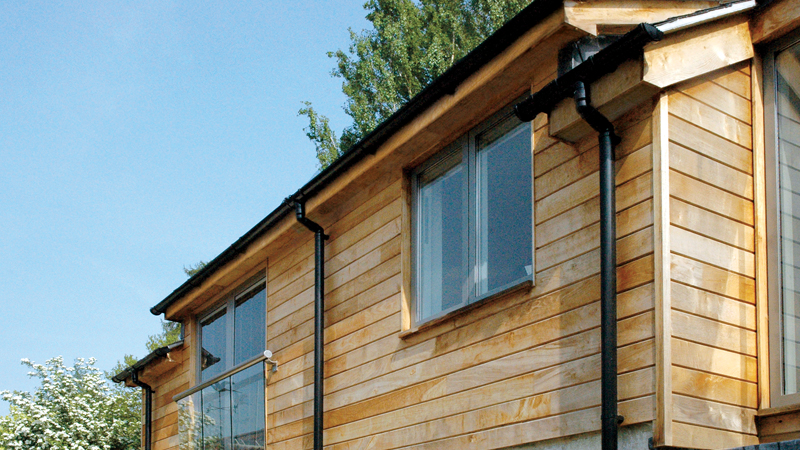 Jointed sweet chestnut TG&V | VTG4
TG&V is shorthand for 'tongue and groove with a v-joint'. TG&V cladding is a machined profile supplied with a smooth finish and an interlocking edge detail to create a waterproof façade. The TG&V profile creates a clean linear appearance which is ideal for contemporary new-builds and modern extensions to older properties. TG&V cladding is most commonly fixed horizontally although it can be fixed vertically.
Our standard range of TG&V profiles offers a choice of joint details to suit specific design requirements. Alternatively we can produce bespoke profiles to customer specifications.
All air-dried species can be machined to TG&V. The most popular choices are Siberian larch and Canadian western red cedar.
Technical Specification
Profile name
TG&V
Profile code
VTG1, VTG2, VTG3, VTG4A, VTG5A, VTG6
Appearance
Classic
Surface finish
Planed
Orientation
Horizontal or vertical
Location
External only
Length
Random lengths from 2.0 – 4.0 metres, depending on specie
Dimensions

VTG1 – VTG3
Depth
Overall Width
Cover
20mm
95mm
87mm
20mm
120mm
112mm
20mm
145mm
137mm
20mm
195mm
187mm

VTG4A – VTG5A – VTG6
Depth
Overall Width
Cover
20mm
95mm
75mm
20mm
120mm
100mm
20mm
145mm
125mm
20mm
195mm
175mm

Profiles
Species

Available in
Larch
Western red cedar
Siberian larch
Canadian western red cedar
Jointed oak
Jointed sweet chestnut
Green oak
Elm

When to fix
Year round. Ideally September to March
How to fix
VTG1, VTG2 – face fix only. One per fixing board / batten
VTG3, VTG4A, VTG5A, VTG6 – secret nail or face fix. One per fixing board / batten
A gap of 2mm should be left between each board
Horizontal attachment
Begin at the bottom, ensuring that the first board is level with the grooved edge facing downwards. If the width of the board is 150mm or less, it can be attached with a hidden nail diagonally through the tongue.For widths over 150mm, the board should be face-fixed, using two (nails?) per board. Fixings should be spaced 65 –75mm apart to allow for some dimensional movement.Vertical attachment
Begin at one corner, with the tongue facing away, ensuring that the first board is vertical. Nail as with the horizontal attachment.
Batten thickness
35mm
Batten spacing
400 – 500mm
Nail length
50mm
Further information
Click here for further fixing advice
Special or bespoke profiles up to 200mm wide can be provided. However, for external cladding, it is generally recommended that boards do not exceed 150mm in width.
While the utmost care has been taken to provide accurate information, Vastern Timber shall not be held responsible for any consequences arising from any errors or omissions on this website nor for any damages resulting from the use of the information.