European walnut sawn timber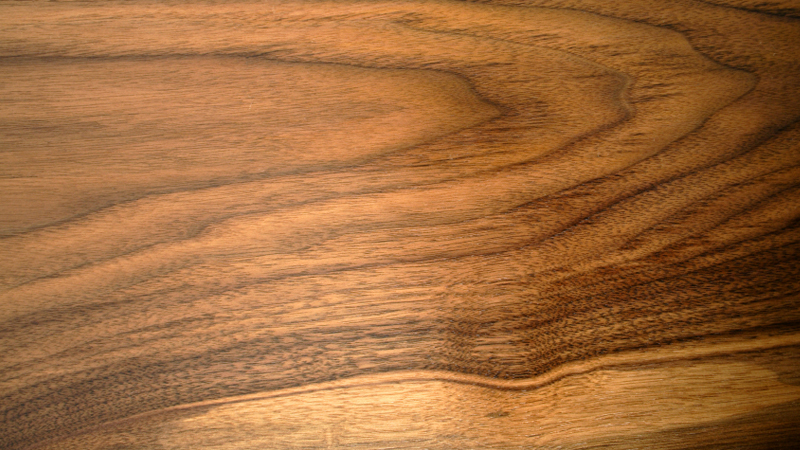 The distinctive grain of European walnut
Although not widely available, English walnut is considered to be one of the most beautiful timbers. Used for high class furniture and gun stocks, the dark colouring and deep lustre of the wood make it a prized timber for prestigious applications.
Together with Italian walnut, trees grown in England are among the best in the world and fine specimens are always in great demand. However, they are not grown commercially in this country and availability is generally limited to individual trees from private gardens and estates.
Although highly prized, the walnut also presents a number of challenges. The tree is often knotty and the centre of the log is prone to shake (splits) so users of walnut should expect a high percentage of waste.
Appearance
Waney edge boards of walnut will be supplied with wane (bark) on one or two edges. Boards are often unusual shapes and sizes and rarely straight which makes their use quite complex.
The sap wood is a creamy white in contrast to the heart wood which ranges in colour from grey to dark brown. The most valued walnut is that with a streaky honey-brown colouring and a wavy grain, a combination which creates a stunning three dimensional figuring.
To avoid disappointment please make an appointment before arriving at either yard to select sawn timber.
Technical Specification
Common name
Walnut
Family
Juglandaceae
Genus
Juglans regia
Unit of sale
M3 (Cubic meters) (1M3 = 35.315 Ft3)
Kiln dried weight
Approx 670KG / M3
Specification
Supplied in waney edge sawn boards
Supplied in waney edge sawn boards
Dimensions

Description
Board
thickness (mm)
Board
thickness (

"

)
Kiln dried and air dried boards
27 / 41 / 54 / 80
1 / 1½ / 2 / 3

Moisture content

Description
Board
thickness (mm)
Moisture
content
Kiln dried Boards
27 – 54
10 – 14%
Kiln dried Boards
80
14 – 18%

Durability
BS EN350-2. Moderately durable
Workability

+

Works very well. Polishes beautifully


–

   Very wasteful
Walnut is sold in whole log volumes. We allow customers to select individual logs but we do not allow the selection of individual boards. Prices vary and will depend on the specification and quality.